This easy vanilla sponge cake recipe is perfect for everyday baking. Keep it simple with a dusting of caster sugar and your favorite filling, or turn it into a traditional Victoria Sandwich by filling it with raspberry or strawberry preserves. It's the perfect sponge cake recipe for any application.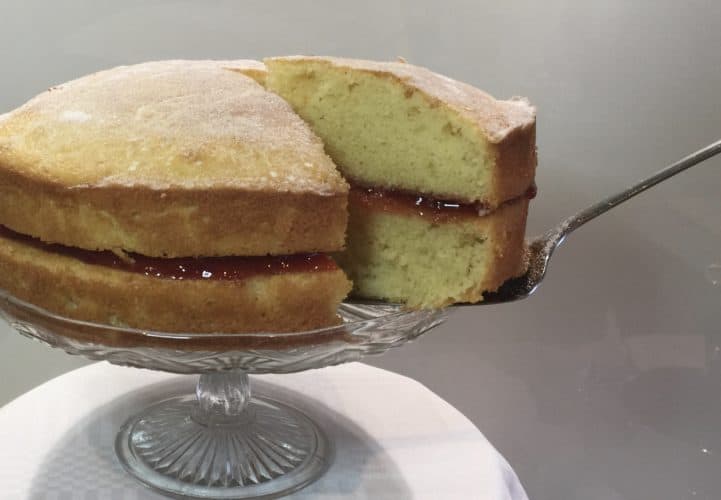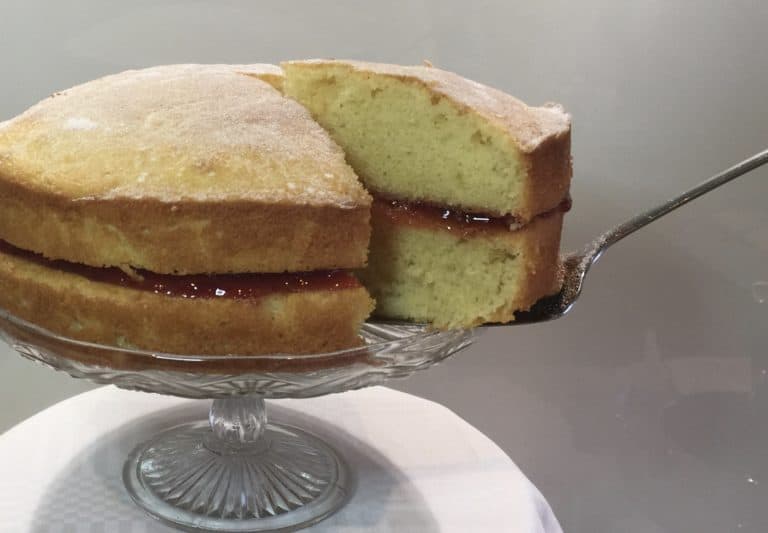 This Classic Victoria Sandwich is great for a last minute tea time dessert. When you don't want to go to a lot of trouble, but still want to give your family something of a treat to eat after they've eaten all their greens.
It really is an easy victoria sponge cake recipe and is the perfect way to start your cooking journey if you are new to baking. Let me show you how to bake a cake step by step. 



How to Make a Sponge Cake Step by Step
You only need 4 basic ingredients to bake this simple sponge cake: Butter, Sugar, Eggs and Flour. Vanilla Extract is added once all your ingredients are beaten together. Grease and line the loose bottomed baking tins or cake tins with baking parchment on the bottom.
When the cake batter is well mixed, spread it evenly between the two cake tins.



It only takes 20 mins to bake! Even with cooling time, you can have a freshly baked cake within the hour. I love it.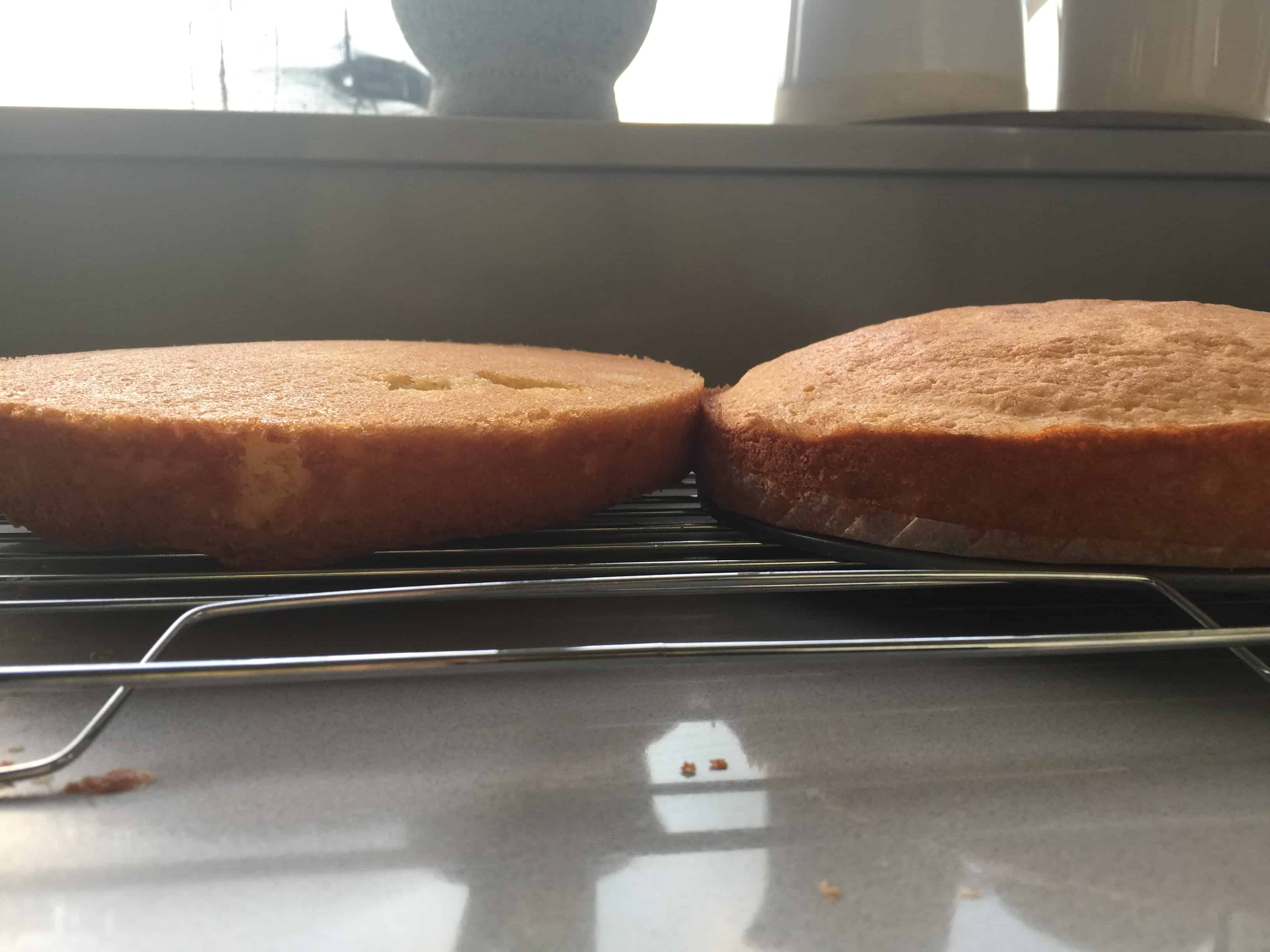 Do I need to remove the cake dome?
Both cakes will have risen slightly, so rather than cut one of the domes off, turn one over on the cooling rack and flatten it just a little. Why waste perfectly delicious vanilla sponge cake if you don't have to? The two bases will be sandwiched together with jam.
If you do decide the slice the dome from the top of the cakes, save and freeze the pieces of sponge to use in a trifle.



Use your Favourite Sponge Cake Filling.
No need for fancy buttercream, icings or fillings. Sandwich both cakes together with your favourite preserve and dust with a light coating of caster sugar.
For a traditional Victoria Sponge Cake, raspberry or strawberry preserves are warranted. A delicious alternative would be Homemade Lemon curd. 
Use this easy cake recipe as a basis for all the bakes that you make from now on, and you will soon build a repertoire of cake recipes.
I have an easy recipe if you fancy making your own Vanilla Extract. But you will need to wait at least 6 - 8 months for it to mature.
If you ever fancy making your own Homemade Butter with any leftover fresh double cream. Give it a try. You can make Apple and Blueberry Muffins using the buttermilk that's left. Or these Easy Vanilla Buttermilk Scones
This is A Simple Guide to Different White Sugars to help you understand the differences between many white sugars and their different brand names.
 You may like to bake these other easy recipes.
Cake Recipes
Or this Vanilla Loaf Cake topped with buttercream and Sprinkles and these Strawberry Butterfly Cakes that uses a simple Victoria Sponge Cake recipe.
Bread Recipes
Easy White Bread Recipe This recipe uses Plain Flour as an alternative to Strong Bread Flour that's normally used in bread making. It's also made using fresh yeast.
Easy Brown Bread Recipe - This recipe uses Fast Action Dried Yeast
Keen to Bake More?
Subscribe to my newsletter.  Follow me on Facebook, Instagram and Pinterest. You are also welcome to join my Facebook group.
If you make this recipe, please leave a comment with a rating, to let me know how you got on.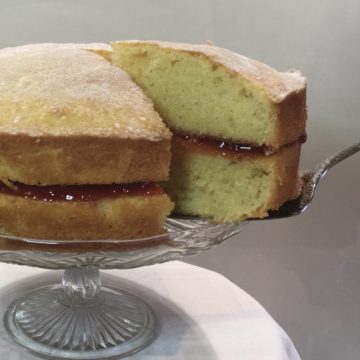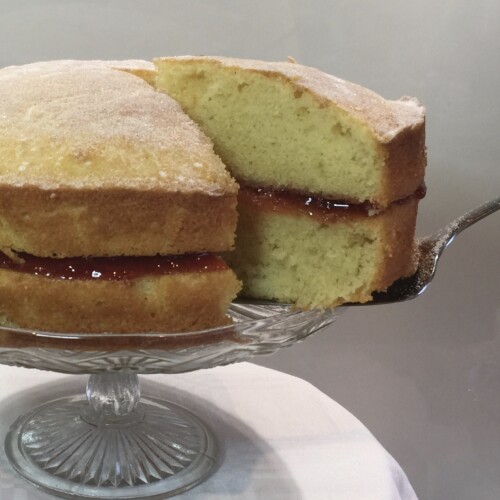 Victoria Sponge Cake Recipe
A very easy Victoria Sponge Cake. Filled with Raspberry or Strawberry Jam. Topped with a dusting of Caster sugar.
INGREDIENTS
225

g

butter

softened

225

g

white caster sugar

4

medium eggs

225

g

self raising flour

1

teaspoons

vanilla extract

1

tablespoon

milk

optional

Raspberry or strawberry jam

Caster sugar for dusting
Instructions
Grease and line the base of two 19cm/7.5ins loose bottomed cake tins.

Preheat the oven to 180 deg fan assisted.

Using an electric mixer. Beat together the butter and sugar until light and fluffy.

Gradually add the eggs, one at a time, adding a little flour between each one. This will help prevent curdling. Mix together until well combined.

Add the vanilla extract and the remaining flour. Mix until well combined.

Your batter should be of a dropping consistency. (drop off your spatular easily) If not, add the milk and mix until well combined.

Pour the cake batter evenly into the two cakes tins. Use scales to ensure you have an equal amount in each tin, or this will affect your baking times.

Bake in the centre of the oven for 20 mins. Or until baked. Testing the centre of each cake with a skewer until it comes out clean.

Leave in the tins for 5 - 10 mins to cool a little, before turning out onto a wire rack to cool completely.

Turn one of the cakes upside down to flatten the dome.

When cooled completely place the flattened domed cake on a cake stand with it's base facing upwards. Spread a layer of Raspberry or Strawberry jam. Place the second layer on top.

Dust with a light coating a caster sugar.
Notes
This cake will keep for a few days in an airtight container. But is best eaten on the day it's made.
If you keep it in the fridge, the sponge will harden due to it being made with butter. Bring to room temperature before serving.