An easy to make Chocolate Cake filled with Hazelnut Chocolate Spread. Topped with a chocolate layer that doesn't crack when sliced. For an Easter treat, top with mini sugar coated eggs.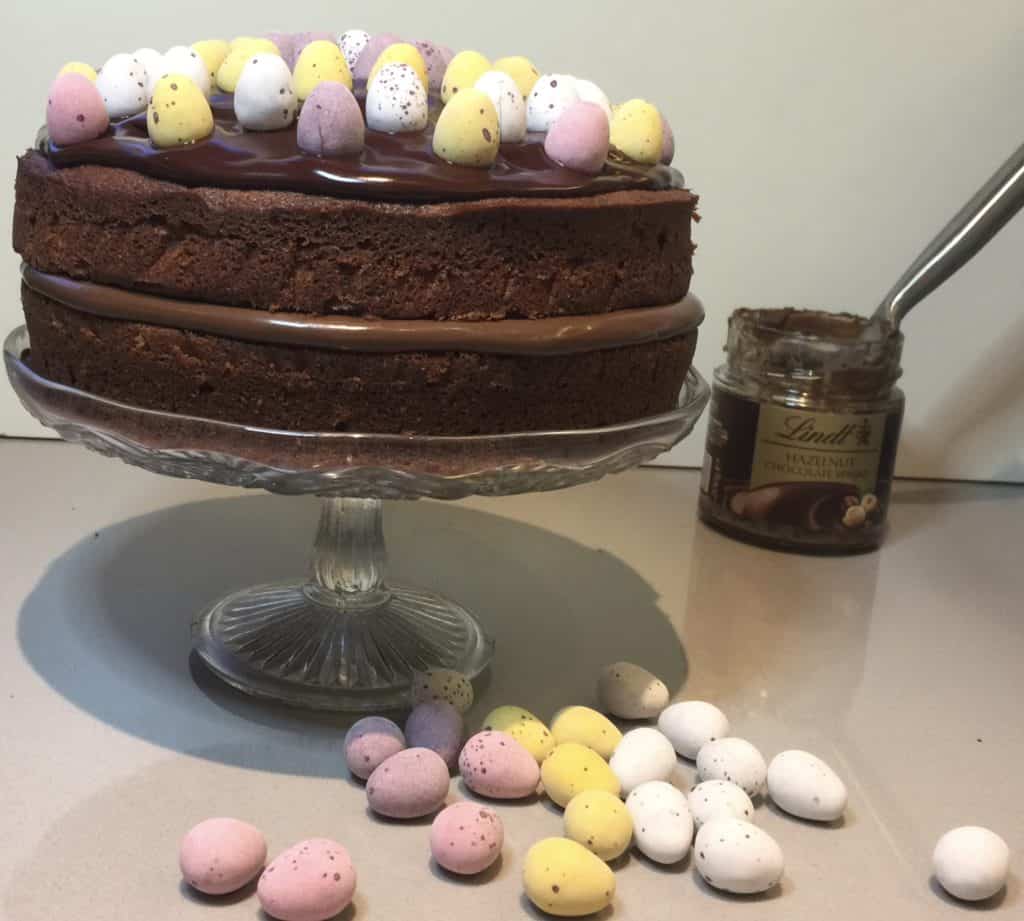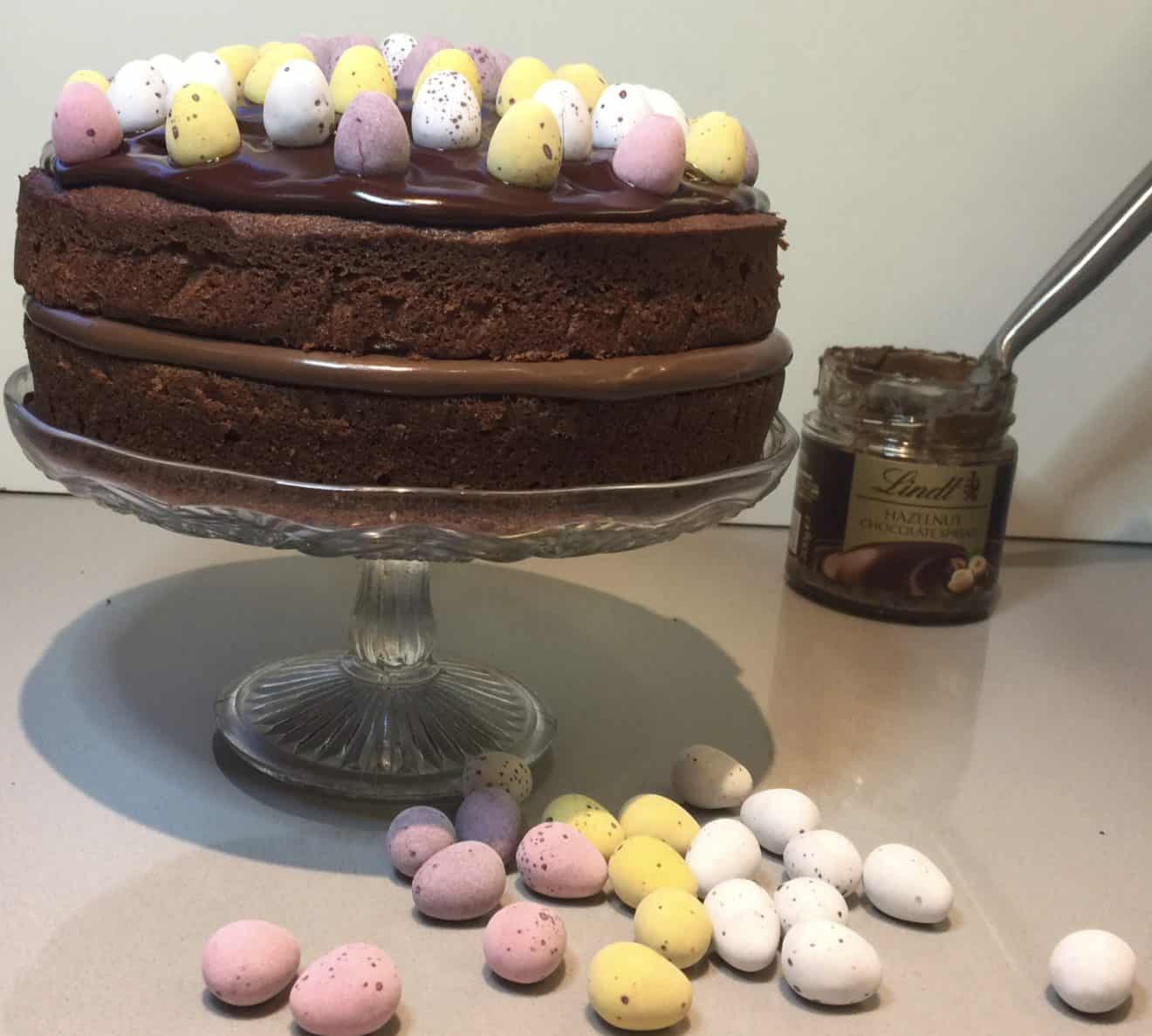 I like this cake because it's very adaptable. It uses a variation of the Victoria Sponge Cake recipe. You can use any chocolate spread filling. I used Lindt Hazelnut Chocolate Spread.
If you wish. Leave out the sugar-coated eggs and top with your favourite chocolate treats.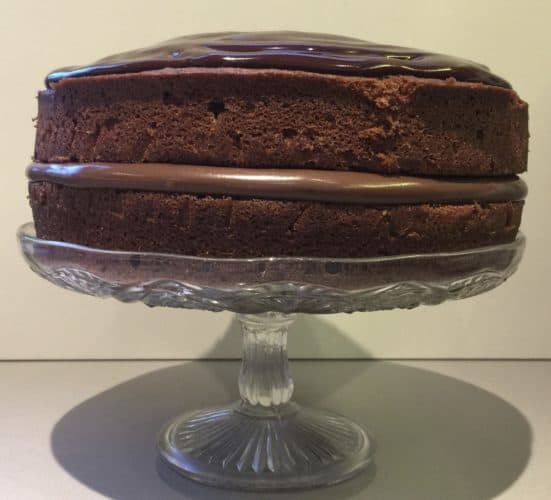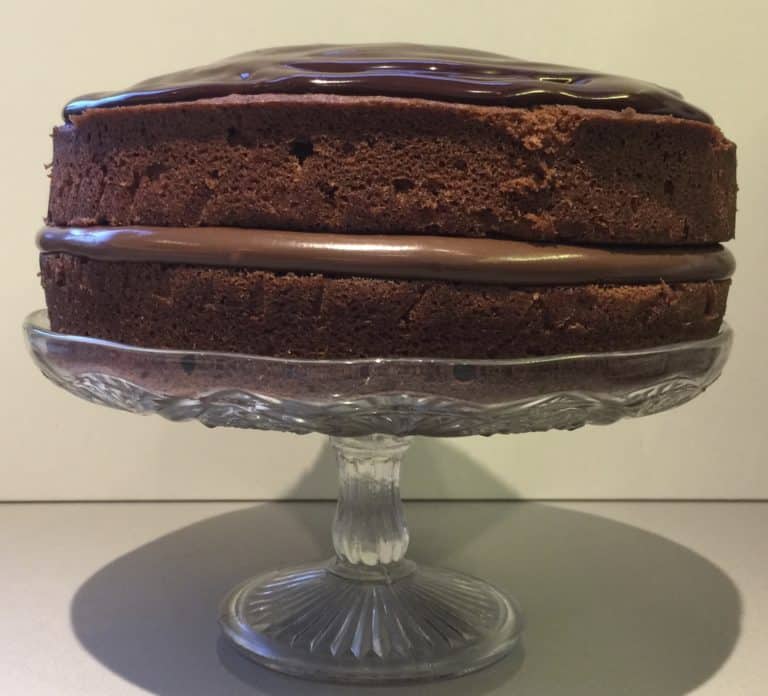 Easy Chocolate Glaze Topping.
The chocolate topping uses a reduced quantity from the Easy chocolate glaze recipe. Which hardens, but doesn't crack when sliced. You could mix and match the filling and topping. If you have a couple of jars of Hazelnut spread, why not use that as a topping instead of the melted chocolate.
Other Easter Chocolate Cake recipes that you may like to bake.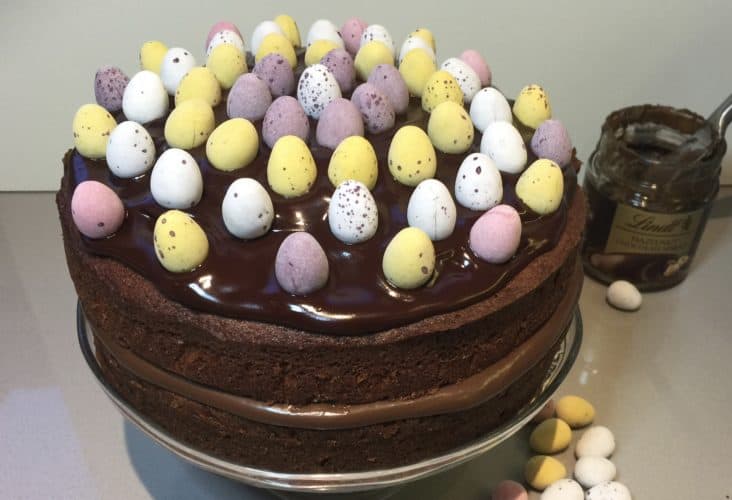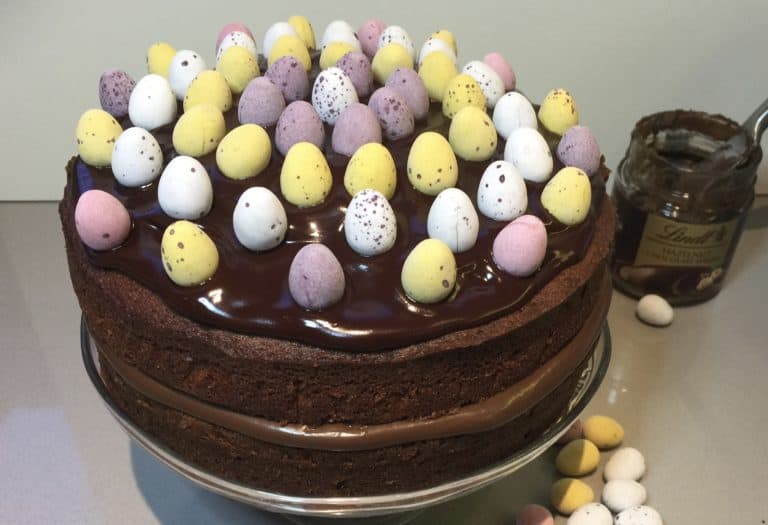 Easter Baking.
You can decorate this cake in any way you wish. Easter calls for mini sugar coated eggs. If you have a young baker in the family, let them do the decorating.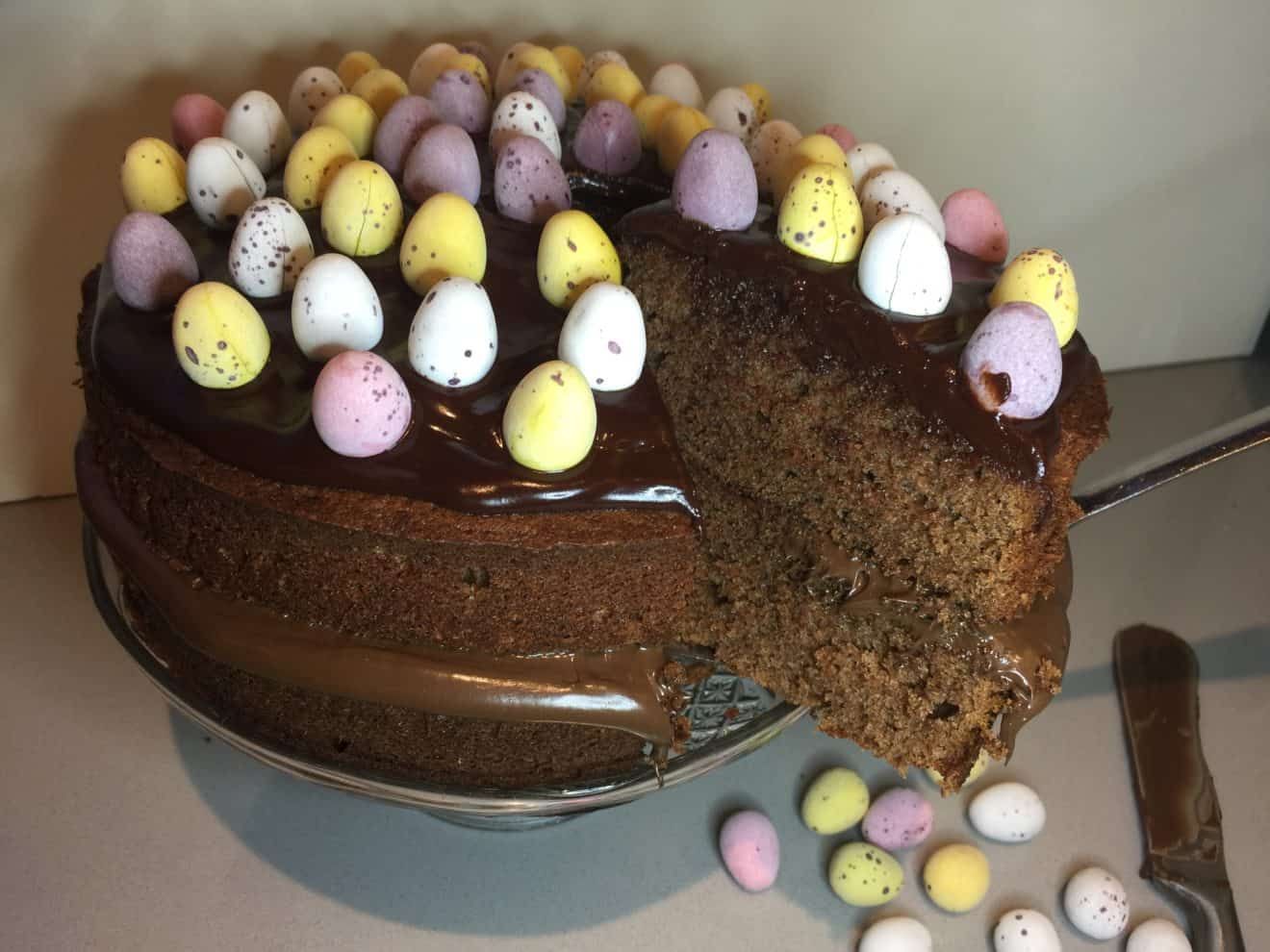 If you love chocolate and want an even easier recipe to make. Try this Chocolate Tray Bake that also uses the easy to slice chocolate topping. Making your own Vanilla Extract is easy too. Just 2 ingredients Vodka and Vanilla Pods. In 8 months you'll have a wonderful Vanilla Extract that's bursting with flavour.
Keen to Bake More?
Subscribe to my newsletter.  Follow me on Facebook, Instagram and Pinterest. You are also welcome to join my Facebook group.
If you make this recipe, please leave a comment with a rating, to let me know how you got on.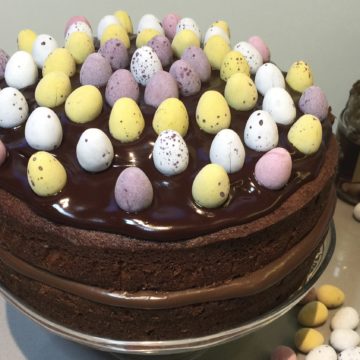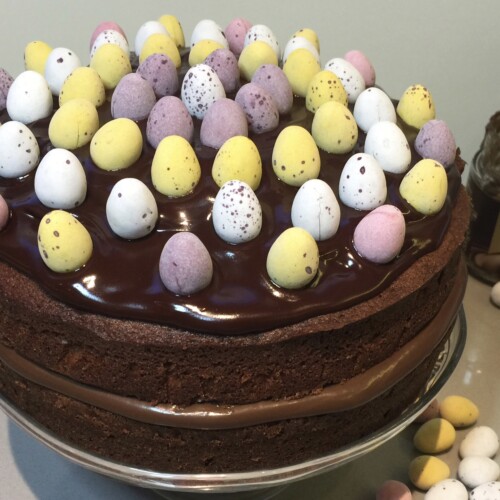 Chocolate Cake filled with Hazelnut chocolate spread.
This Chocolate cake is very adaptable. You can use any chocolate spread filling. I used Lindt Hazelnut Chocolate Spread.
INGREDIENTS
For the cake
225

g

butter softened

225

g

soft brown sugar

4

medium eggs

1

teaspoons

vanilla extract

225

g

self raising flour

sieved

2

tablespoons

cocoa powder

sieved
Filling and Topping
200

g

jar hazelnut chocolate spread

100

g

dark chocolate 70% cocoa

50

g

unsalted butter

200

g

Mini sugar coated eggs
Instructions
Pre heat the oven to 180 deg fan assisted. Grease and line the base of 2 x 19cm/7.5" loose bottomed cake tin.

Beat together the butter and sugar until light and fluffy

Add the eggs one at a time, adding a little flour between each egg. This will help prevent curdling. Mix until well combined.

Add the vanilla extract, cocoa and remaining flour. Gently mix until well combined

Pour the cake batter evenly into the prepared cake tins. Bake for 20 - 25 mins. Or until baked. Testing the centre of the cakes with a skewer until it comes out clean.

Leave in the tins to cool a little before turning out onto a wire rack to cool completely.

Turning one of the cakes upside down while cooling, will help flatten the dome a little. Making it easier to sandwich the two layers together.

Adding the filling and topping.

Melt the chocolate and butter in a heat proof bowl over a pan of simmering water. Stir frequently until melted and smooth. Leave to one side to cool a little.

Sandwich the two cake layers together, keeping the flattened done one upside down, with the Hazelnut spread. Feel free to be generous with the filling and use the whole jar. Using a piping bag will make the job easier.

Pour the cooled chocolate mix over the top of the cake.

Before it sets completely, decorate with the mini eggs
Notes
Will keep for a couple of days in an air tight tin.