This White Chocolate and Raspberry cake has a moist, buttermilk & almond sponge. With a Pink & Cream swirls. Baked in a Kugelhopf Bundt pan. It's topped with white chocolate & freeze dried Raspberries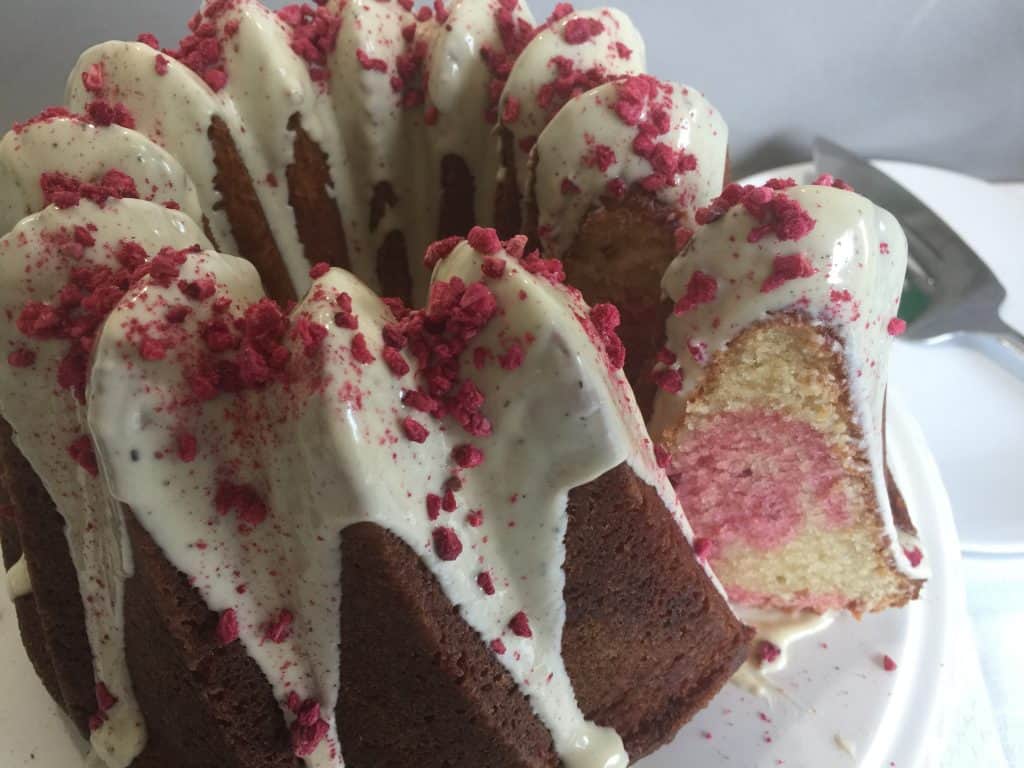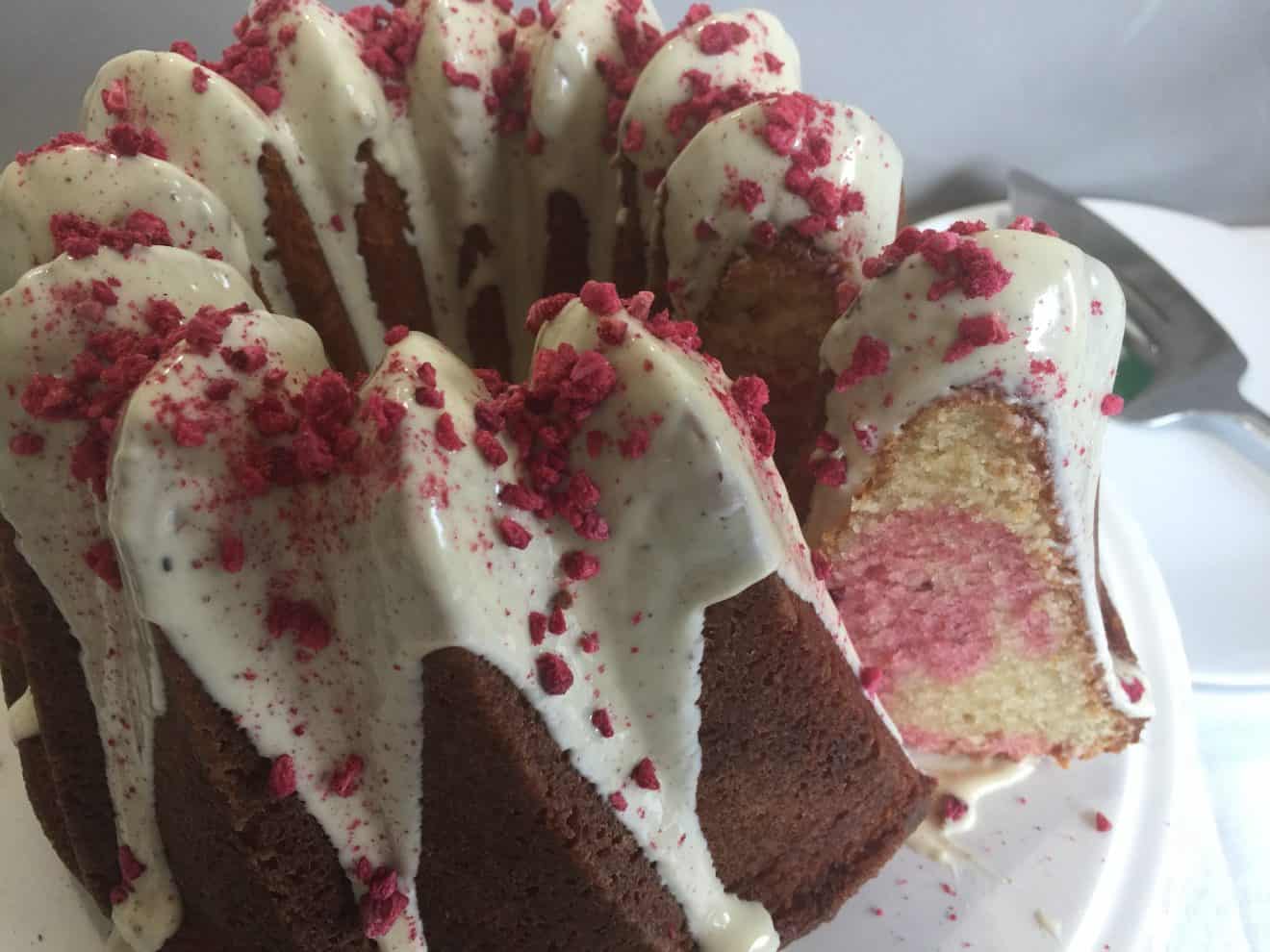 This post was originally posted in August 2018. But has since been updated with additional text and images for better user experience.
The added buttermilk and ground almonds, give this cake a lovely (slightly nutty) moist texture. The white chocolate adds a luxurious touch. Finished off with freeze dried raspberries.
Ingredients needed.
Butter - Must be at room temperature. It makes beating with the sugar much easier.
Caster Sugar - Granulated will be fine. But you will need to beat with the butter a little longer to break down the larger ganules.
Almond Extract - Please avoid using any synthetic flavours. They are not as strong.
Eggs - I often use medium sized.
Self Raising Flour - Sieved wherever possible.
Ground Almonds - Alternative ground nuts will be fine.
Buttermilk - Or plain yoghurt will be fine
White Chocolate - Although White Chocolate looks more attractive Milk or Plain will be fine.
Food Colouring - Whenever possible, use Gel colouring. Only a few drops are needed. Other liquid food colourings, if used too much of, can alter the consistency of the cake batter and make it too runny.
Freeze Dried Raspberries - Available at most supermarkets. Their colour fades over time. So buy as fresh as possible.
How to grease a NordicWare Bundt Pan
I used a Nordicware Kugelhopf Bundt Pan to make this cake. As with all Bundt Pans, you need to make sure that you grease the pan well. I've recently started using Nancy Birtwhistle's cake release mixture of 100g Trex, with 100g Flour mixed together with 100g Vegetable Oil. Full details can be found on Nancy's twitter feed. I follow this with a light dusting of flour. Shaking off any excess.
You may also like to try these other Bundt Pan recipes. Such as this Easter Creme Egg Bundt Cake Topped with a chocolate ganache and lots of Cadbury Cream Eggs. Or this Almond and Amarettini Bundt Cake with Caramel Sauce With crushed Amarettini biscuits.

Keen to Bake More?
Subscribe to my newsletter. Follow me on Facebook, Instagram and Pinterest. You are also welcome to join my Facebook group.
If you make this recipe, please leave a comment with a rating, to let me know how you got on.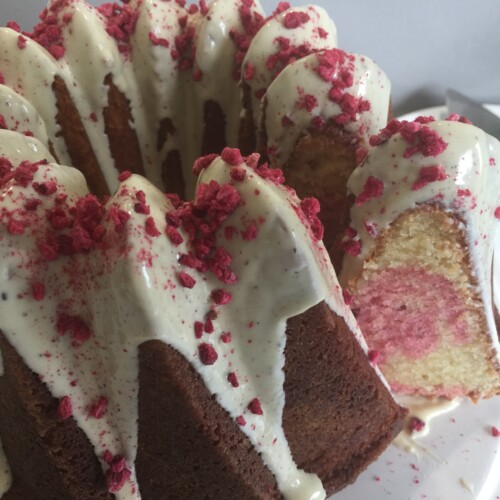 Raspberry, Almond and White Chocolate Marble cake.
The added buttermilk and ground almonds, give this cake a lovely (slightly nutty) moist texture. The white chocolate is to die for. Make sure you use the best flavoured that you can. I used Green and Blacks.
INGREDIENTS
For the Cake
280

grams

unsalted butter

softened

280

grams

caster sugar

20

drops of high strength almond extract

I use Foodie Flavours products Or use your favourite Almond extract to taste.

5

medium eggs

lightly beaten

200

grams

self raising flour

80

grams

ground almonds

2

tbs

tablespoons buttermilk

150

grams

white chocolate

melted

few drops of pink food colouring

2

teaspoon

teaspoons freeze dried raspberries
Topping
150

grams

white chocolate

3 - 4

teaspoons

of freeze dried raspberries

or as required
Instructions
Pre heat the oven to 170 deg fan assisted. Grease a Kugelopf Nordicware bundt pan (or your favourite 10 Cup bundt pan) with cake release and dust with a thin layer of flour shaking off any excess. Or use your own method of lining a Bundt pan.

Using an electric mixer, beat the butter and sugar together until light and creamy. Occasionally scraping down the sides of the bowl.

Add the almond extract to the beaten eggs, give it a little mix. This will help disperse the Almond flavour evenly throughout the cake batter.

While the mixer is going, slowly pour the egg mix into the cake batter adding a little flour as you go along to help prevent curdling.

Add the remaining flour and ground almonds and mix until well combined.

Add the buttermilk and (melted) chocolate. Mix until well combined

Put half the cake batter into a large bowl. Add a little pink colouring as required. Add the dried raspberries. Mix until well combined and an even colour. You should now have a bowl of pink cake batter and a bowl of plain cake batter.

Alternately spoon both batters into the bundt pan and create a marble effect using a cake skewer or spatula making swirling motions through the batter. Tap the bundt pan on your counter top, to ensure there are no air pockets and all the batter fills the crevices of the bundt pan.

Bake for 45 mins in the centre of the oven or until baked. Testing various parts of the cake with a skewer until it comes out clean.If the top starts to look a little too golden during baking, cover with a sheet of baking parchment to help prevent it from burning.

When baked, take out of the oven and leave in the tin to cool a little (about 10 – 15 mins) before turning out onto a wire rack to cool completely. If you try to turn the cake out while it's still hot, you may find that some of the cake will stick to the cake tin, especially if you have not coated the bundt pan properly

Leave the cake to cool completely before you decorate with the melted chocolate. If you don't, the chocolate will pour down the sides of the cake and pool into your serving dish.

While the cake is cooling, melt the chocolate in a heat proof dish over a pan of simmering water. Once all the chocolate has melted, take off the heat and leave to cool to a slow runny consistency. Too runny and it will pour down the sides of your cake into your serving dish.

Decorate the cake with the chocolate and top with the freeze dried raspberries.