Turn these School Holiday Recipes into fun baking days for you and the children. Put a few dates in the diary and start planning.
I think baking is a great way of helping children with their maths. Using scales, making sure the scales return to zero and getting the weights correct can be fun for the little ones. Counting how many biscuits and cookies are on the baking tray can be fun too. And of course, how many they plan on eating and sharing later!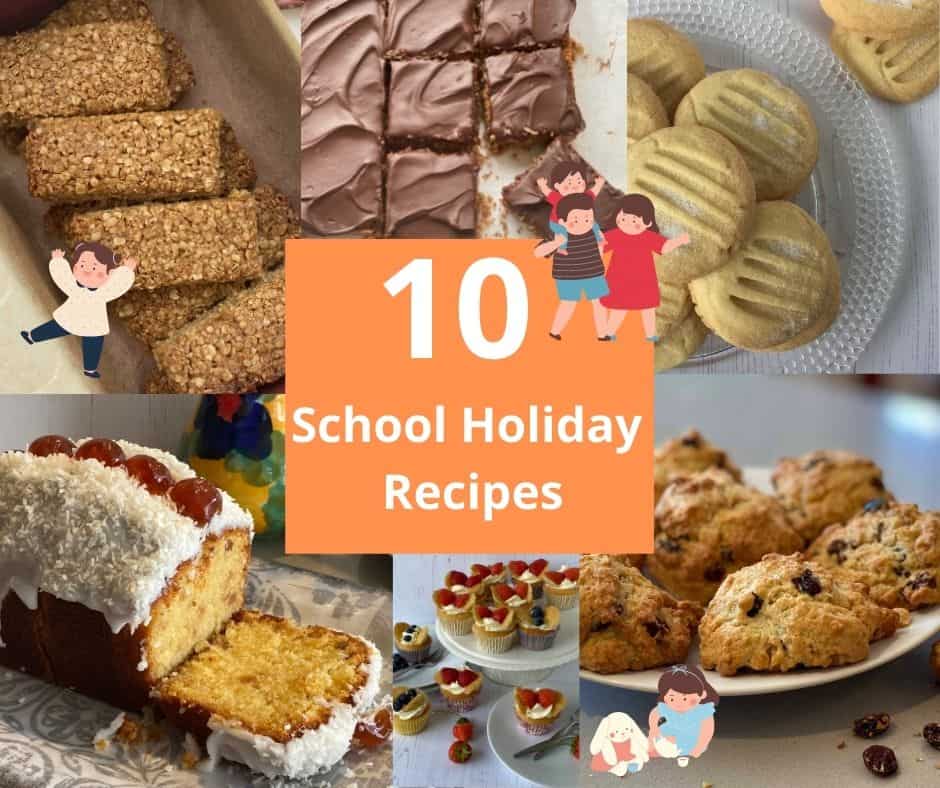 I've put together a list of easy recipes to make. Some may need a little more supervision, but for the older child with a little more baking experience, they should be equally as easy.
To avoid any tears and upsets, get them to read through each recipe with you before they begin. And although it may mean a little extra washing up, encourage them to have all their ingredients weighed out and ready to use before they start.
Getting things right at this early stage of learning how to bake, will encourage children to go on and do more, with less supervision from a grown up. But always be on standby if needed and always help by putting cakes and bakes in the oven for them.
School Holiday Baking
These first few holiday recipes are some of the easiest to make. The dough from Melting Moments can be rolled in tiny hands and with a blunt folk, they can easily press down the dough onto a baking sheet leaving a pretty pattern behind using the fork. If you can encourage them to place each ball of dough onto the baking sheet in neat little rows, it will make it easier for them to count how many they have made.
You could leave out the buttercream on these Strawberry Butterfly Cakes and simply scoop out the centre and get the children to fill the hollow with jam, while still keeping the butterfly shapes.
Making scones is another simple recipe. Using a cookie cutter, the little ones can make little scones for a tea party with friends.
TrayBake Recipes
Easy Recipes for Baking
These recipes use a sheet cake or tray bake, although the gingerbread Traybake is more in keeping with bonfire night later in the year. This will give young children a bit of practice for Guy Fawkes night.
Recipes Using a 1lb Loaf Tin
At this early age, it's good to introduce them to different sized cake tins. Explaining the difference between round, square and 1lb and 2lb loaf tins. Start them off with these loaf cakes using 1lb loaf tins.
I hope you find some of these recipes helpful during the School holidays. I'd love to hear what you made with your little ones and how you got on. Leave a comment below if you have the time. Thank you so much.