These soft and chewy Cherry, Oat and White Chocolate cookie bars are easy to make. They're a cross between a flapjack and shortbread.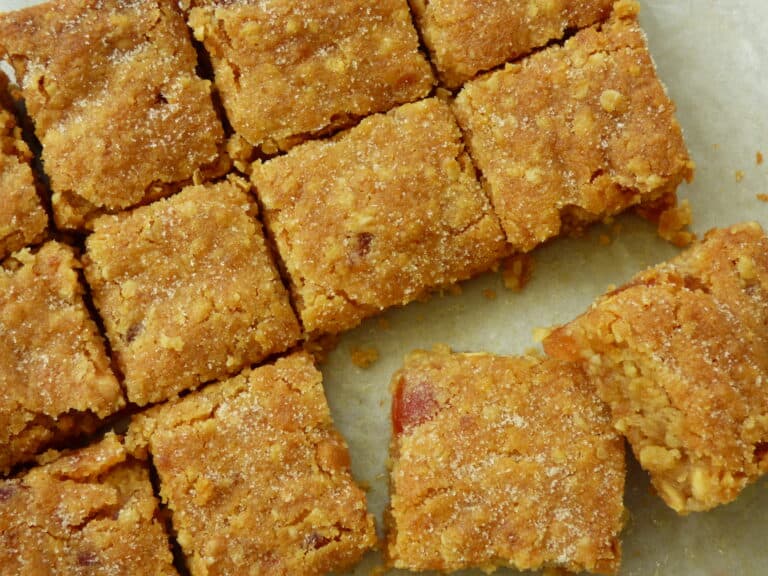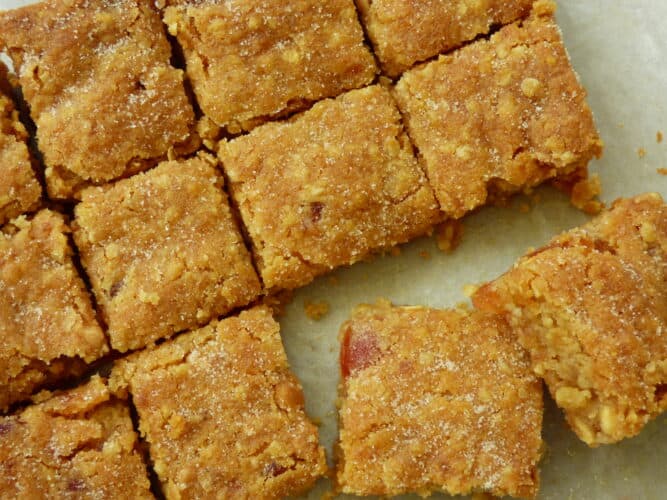 What is a cookie bar?
If you ever want to stop your cookie dough from spreading when baked, turn them into Cookie Bars.
The inspiration for this recipe came from Sally's Baking Addiction newsletter, where she gave the idea of turning cookie dough that spreads, into cooke bars by baking them in a shallow cake tin, such as a traybake tin. Rather than as walnut sized pieces on a flat baking tray.
It worked. I altered my original recipe with a few extra ingredients and ratios to accommodate my tin size. I made sure that the cookie dough was spread evenly. I'm really pleased with the results and plan on making cookie bars from now on.
How to make these cookie bars:
Preheat oven to 170c fan assisted. Grease and line a 10.5 inch (27cm) x 7 inch (17.5cm) x 1 tray bake tin or similar with baking parchment or greaseproof paper. If you use a tin with a different size, the baking times may differ. 
Using an electric mixer, beat together the butter and sugar until soft, light and fluffy. This will only take a couple of mins.
Sift in the flour and baking powder. Add the Vanilla Extract, oats, cherries and white chocolate chips. Mix together until well combined and forms a dough. This will only take a few seconds when using the electric mixer. Do not over beat.
Press the dough into the prepared baking pan making sure the level is even.
Bake in the oven for 30 mins or until baked and lightly golden. Testing the centre of the bake with a skewer until it comes out clean. Take out of the oven and dust with caster sugar while still warm.
Leave in the tin to cool a little, before slicing into bars. To get clean straight slices. Leave to cool completely before slicing.
Ways to adapt this recipe:
Try using milk or dark chocolate chips in place of white chocolate.
Make a water icing to drizzle over the top as an alternative to dusting with caster sugar.
More delicious Cookie Bar recipes to try: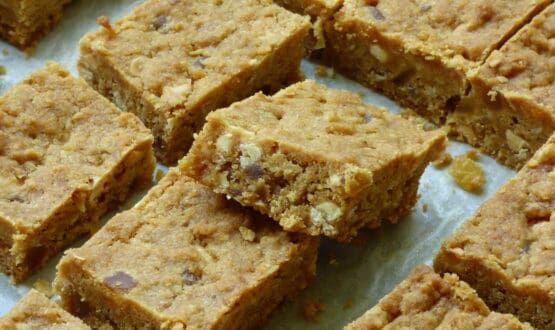 You may also like to try these Glace Ginger, Oat and White Chocolate Cookie Bars. They have just a hint of Ginger from the Glace Ginger pieces and uses soft dark brown sugar which gives a slight toffee taste.