Chocolate Ganache is relatively easy to make. The amount in this recipe will fill and cover a 7"/18cm cake.  Such as this Chocolate Fudge Cake recipe.

What is Chocolate Ganache?
Once you know how to make Chocolate Ganache, which is a mixture of double cream and chocolate. You'll discover, with a little care, how easy it can be to make.
Often flavoured with liqueur. It's great for filling and topping cakes. It's also good for dripping cakes and making Chocolate Truffles.
How to prevent Chocolate Ganache from splitting.
From time to time, chocolate ganache and chocolate frosting can split if you're not careful. I've found it's due to three things.
Not leaving the hot cream long enough to infuse into the chocolate. It needs to permeate all of the chocolate for it to come to a soft consistency before you start to bring it all together. If it splits in the bowl, sadly, you'll need to start again. I haven't found a way of bringing it back. If you discover a solution, I'd love to hear from you.
Don't over mix. As soon as all the cream and chocolate come together, looking all nice a shiny. STOP MIXING. Leave it alone. It's done. Fill and pour over your cake. Taking care not to overly spread the mixture either as this can also start the splitting process, even at this stage.
Use good quality chocolate. That doesn't always mean the expensive kind, but it does mean finding chocolate with high cocoa solids such as 70%. After all, you've made your cake and you want to finish it with lots of chocolate flavours.
If you want something a little easier as a chocolate frosting, but don't want to make a ganache. This Easy Chocolate Glaze might just fit the bill. Even though the chocolate sets. It slices very easily without cracking. It's the perfect topping for cakes and traybakes.
You may also like to try;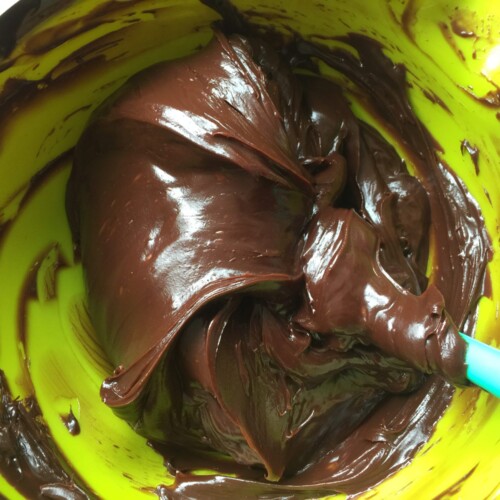 How to make Chocolate Ganache
This amount of chocolate ganache will fill and cover a 7"/18cm cake.  Such as this
Chocolate Fudge Cake
recipe.
INGREDIENTS
350

grams

Dark chocolate

roughly chopped

300

ml

Double cream

1

tbs

of your favourite liqueur

optional
Instructions
Place the chopped chocolate into a heat proof bowl. Heat the cream on a medium heat, until you see bubbles around the side of the pan. Do not boil.

Pour the cream over the chocolate and leave to infuse for a couple of mins to allow the chocolate to soften.

Add the liqueur then gently start to mix the cream and chocolate together, until you have a rich smooth glossy consistency.

Leave to set to a spreadable consistency at room temperature. This could take a couple of hours, depending on how hot your kitchen is.
Notes
Avoid placing in the fridge at this point as it may set too hard and lose the shine.