This delicious homemade Lime Curd makes a great filling for cakes and bakes. Toppings for scones, buns, and cupcakes. And will keep for up to 3 months in the fridge.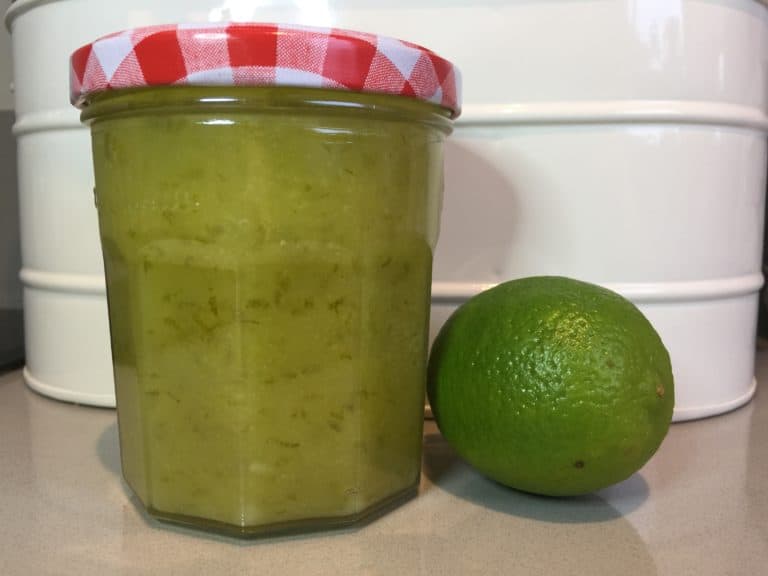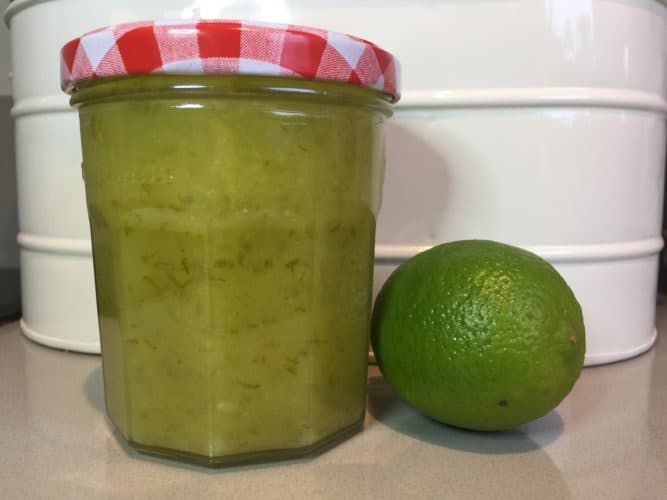 What is Lime Curd?
Lime curd consists of 4 ingredients. With very little options for alternatives. Make sure your eggs and limes are fresh.
How to make Lime Curd
First of all, have ready a sterilised jar. See note below on how to sterilise glass jars.
Fruit curds are relatively easy to make. You can practically make a curd using most fruits. You need to take care while stirring the mixture. Especially if you decide to make it in a pan rather than using the method of a bowl over a pan of simmering water.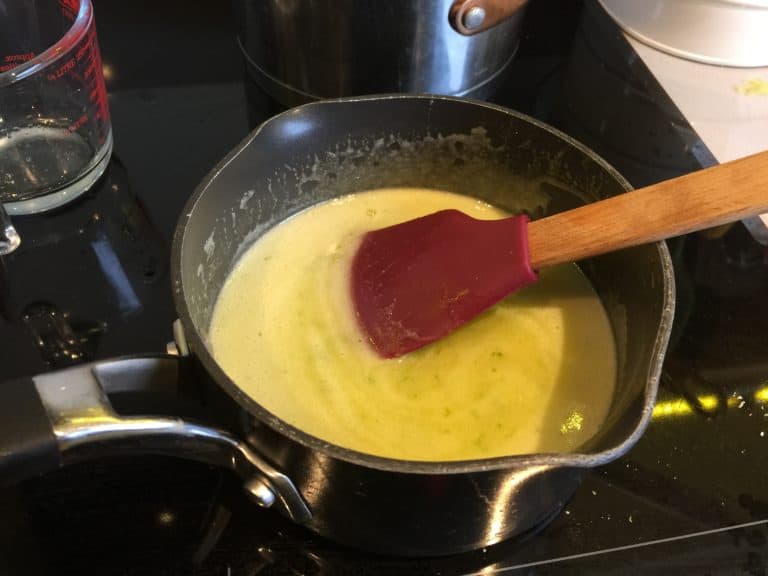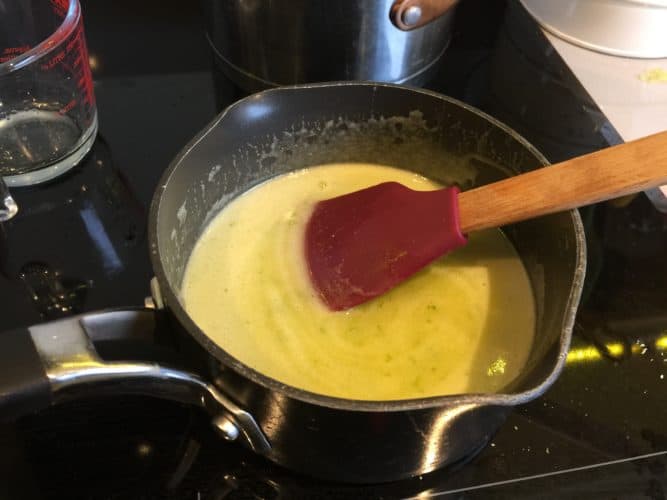 I found it much easier to warm the ingredients in the bowl over a pan of simmering water first, before adding the eggs and transferring everything into a nonstick pan.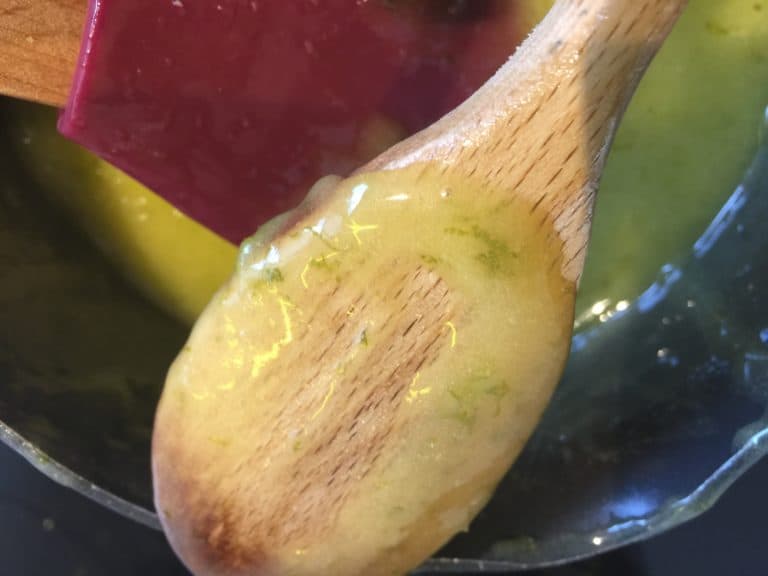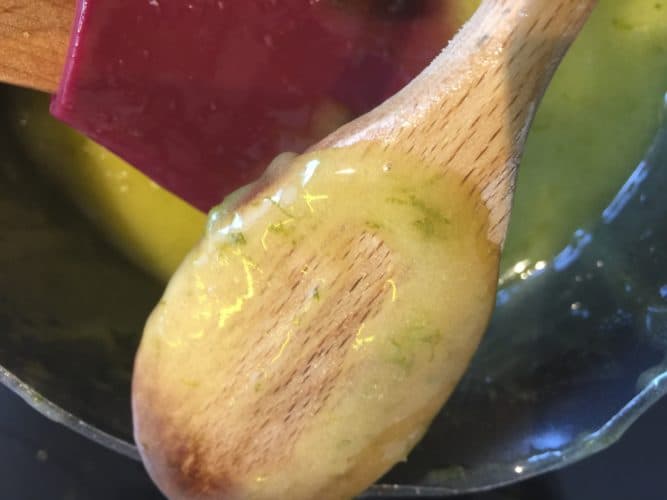 How to thicken Lime curd
From then on you should never leave the Lime Curd mixture unattended as it will burn at the bottom.
Keep stirring until you reach the correct consistency. To test this, coat the back of a wooden spoon with some of the curd and swipe your finger across. It should leave a groove and the curd should only very slowly fall off the spoon.
Fruit curds are ready when they are done. You need to have patience when making it as it can often take about 30 mins for the curd to start thickening. But the rewards are great and so worth it.
Should you sieve the curd mixture when cooked?
Before you pour the curd into the sterilised jar, some recipes tell you to sieve the mixture once it's thickened. I prefer not to because you will sieve out all the lovely zingy lime zest.
The only time you would need to sieve the curd is if the egg whites had cooked and were showing. To avoid this happening, ensure that the mixture is not too hot before you add the eggs. Otherwise, pour straight into a clean jar. Store in the fridge.
How long will fruit Curd keep?
If sealed well, in clean sterilised jars, fruit curds will keep in the fridge for up to three months unopened. Once opened, the shelf life is reduced and you will need to use it up fairly quickly.
Lime Curd uses
Lime curd and Lemon Curd, is extremely versatile. It can be a topping for buns, cupcakes, and pancakes. Also a topping for scones with clotted cream. A filling for a Victoria Sandwich Cake. It can be used to flavour cake batters. A couple of tablespoons may just be enough. Or spread thickly on hot buttered toast for breakfast.
Tips for making good homemade lime curd.
Use fresh ingredients
Clean sterilised jars will help with shelf life in the fridge
Keep stirring and don't take your eyes off the simmering curd
Be patient and it will all come together.
How to sterilise jars.
Thoroughly wash your glass jars and tops in hot clean slightly soapy water. Rinse thoroughly.
Then do either of the following;
Place the jars and lids in the clean sink or large container and pour boiling hot water into the jar and over the jar lid. Leave for at least ten mins to kill off any remaining bacteria. Then turn upside down on to a clean tea towel to drain off.
or
After washing your jars, you can sterilise the jars in the oven. I find this much easier as it also dries them out and you know they are squeaky clean.
To add to your collection of curds and jams, you may also like to try these recipes
Update Notes: This post was originally published in March 2019, but was republished with updated information on Sept 2019.