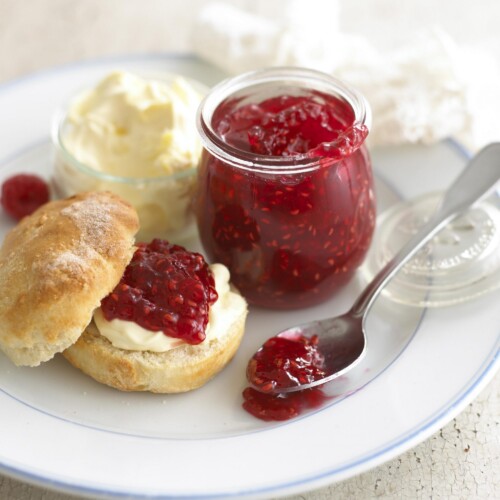 Recipe by kind permission of Tate and Lyle sugars
A beautiful summer jam recipe. It has the added suptle flavour of Rosewater giving it a wonderful summer floral note to any cake filling or scone topping.
Whip up some fresh cream for a delicious cake filling or indulge in some Clotted cream.
Jam first or cream first. Only you can decide.
You may also like to try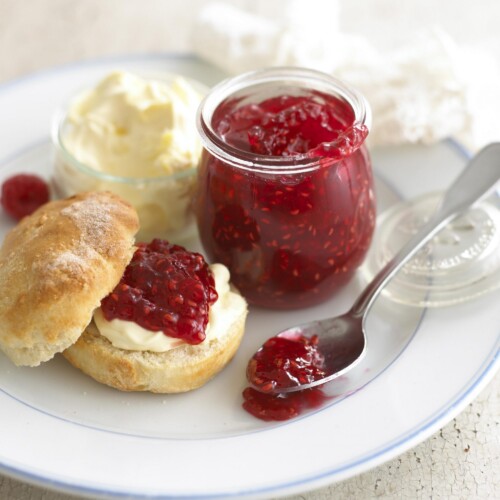 Raspberry and Rosewater jam
Recipe with kind permission from Tate and Lyle sugars
INGREDIENTS
Raspberry and Rosewater Jam
1

kg

raspberries

1

kg

Tate & Lyle Fairtrade Jam Cane Sugar

warmed in oven

3

tablespoon

rosewater
Instructions
Put the raspberries into a preserving pan or large heavy casserole and simmer in their own juice for 5 minutes, stirring from time to time until soft.

Stir in the Tate & Lyle Fairtrade Jam Cane Sugar and continue to stir until the sugar has dissolved. Boil rapidly for approximately 15 minutes or until setting point is reached. To test the jam, remove the pan from the heat while you are testing to prevent over-cooking. Either use a thermometer and when it registers 110ºC, the jam will be ready or alternatively, you will need two chilled saucers. Drop a teaspoon of the jam onto the sauce and push a finger across the jam.If the surface wrinkles it has reached setting point. If not, boil for another 5 minutes.

Take the pan off the heat, remove any froth with a slotted spoon then stir in the rosewater. Leave to stand for 15 minutes.

Meanwhile prepare the pots, they must be thoroughly clean. After washing they can be  put in a low oven to dry and keep warm.

To fill the jars, transfer the jam to a jug and pour into the jars to within 1cm from the rim. Cover with a waxed disc then seal with cellophane or a screwtop lid. Finally label the jars.
Notes
TIPS:
You can buy packs of discs and cellophane from cookshops.
Always pour hot jam into warm jars.
For best results, store jams in a cool dark place.
Frozen raspberries can also be used to make this jam, just tip them into the pan and allow a little longer for them to defrost and the juices run.