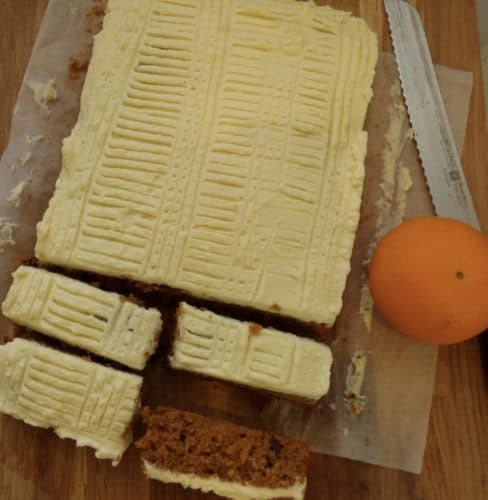 A beautiful moist Olive Oil cake. Perfectly matched in flavour with freshly grated carrot and plump raisins steeped in orange juice and zest.
Olive Oil vs Sunflower Oil
Whenever I've added a vegetable oil to a cake, it never adds anything other than moisture. In fact no flavour at all. Olive Oil, adds moisture and a subtle flavour. On its own, it might be too much. But the grated carrots and plump raisins that are soaked in Orange juice, complement the Olive Oil nicely.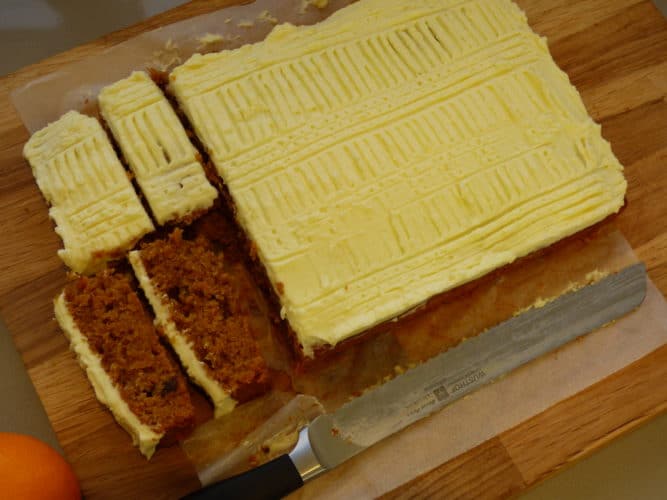 Cream Cheese Topping
I was in two minds whether to add a frosting of any kind on this Carrot Cake. Which is a traditional topping for most carrot cakes. Perhaps just adding a drizzle of some Orange flavoured water icing. But I'm glad I made the frosting.
Take care with the mixing as cream cheese and butter tend to curdle and split. Or worse still the cream cheese can go runny if you over beat the frosting too much. That's why I've suggested you swap over from an electric mixer to a wooden spoon when you add the Cream Cheese to the frosting mix. In other words. DON'T OVER MIX.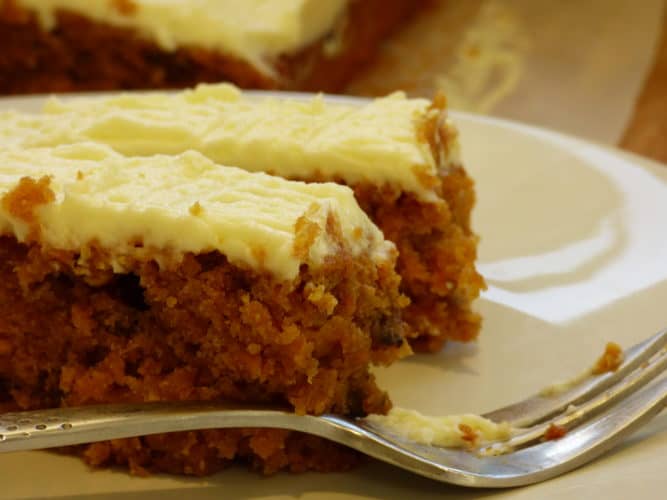 Cutting and slicing
Avoid using a serrated knife to cut this cake. The grated carrots get caught in the groves. Best use a plain but sharp knife that will cut through the cake and carrots cleanly.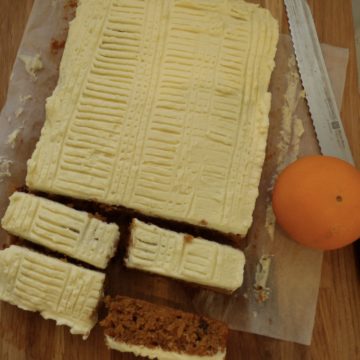 Olive Oil, Carrot and Raisin Cake with a Cream Cheese Frosted topping.
A beautiful moist Olive Oil cake. Perfectly matched in flavour with freshly grated carrot and plump raisins steeped in orange juice and zest.
INGREDIENTS
50

g

raisins

Zest of one medium orange

3

tablespoons

approx of orange juice

125

g

self raising flour

100

g

wholemeal self raising flour

Half teaspoon ground mixed spice

150

g

soft dark brown sugar

200

g

grated carrots

approx. two medium carrots

2

medium eggs

lightly beaten

½

teaspoons

vanilla extract

150

ml

Extra Virgin Olive Oil
Frosting
100

g

butter softened

50

g

Orange flavoured Sugar and Crumbs Icing sugar

sieved

180

g

Full fat cream cheese
Instructions
In a small bowl, mix together the raisins, orange zest and orange juice. Leave to one side to plump up the raisins. About 20 - 30 mins

Preheat the oven to 170deg fan assisted. Grease and line the base of a shallow 29cm x 19 cm oblong tin or similar. At least 2cm/1ins deep.

Sieve the flour and spices together into a large mixing bowl.

Add the sugar and carrots. Mix until well combined.

Make a well in the centre and add the olive oil, eggs, vanilla extract and orange juice soaked raisins. Add any residual orange juice that hasn't been soaked up by the raisins.

Mix together with a wooden spoon or spatula, until well combined and evenly mixed.

Pour the cake mixture evenly into the prepared tin. Bake for 25 -30 mins in the centre of the oven or until baked. Testing the centre of the cake, in different areas, with a skewer until it comes out clean.

Leave in the tin to cool completely.
While the cake is cooling make the frosting.
Using an electric mixer. Mix together the butter and icing sugar until light and fluffy.

Using a wooden spoon or spatula add the cream cheese. Mix until just  combined.

Do not over beat or the mixture will become too runny.

When the cake is completely cooled, spread the frosting over the top.

Add a decorative zig zag pattern using a fork.