I made this Coconut and Lime Cake using leftover Coconut Cream. It helps boost the flavour of the desiccated coconut.  The Lime flavours help give it a zingy taste.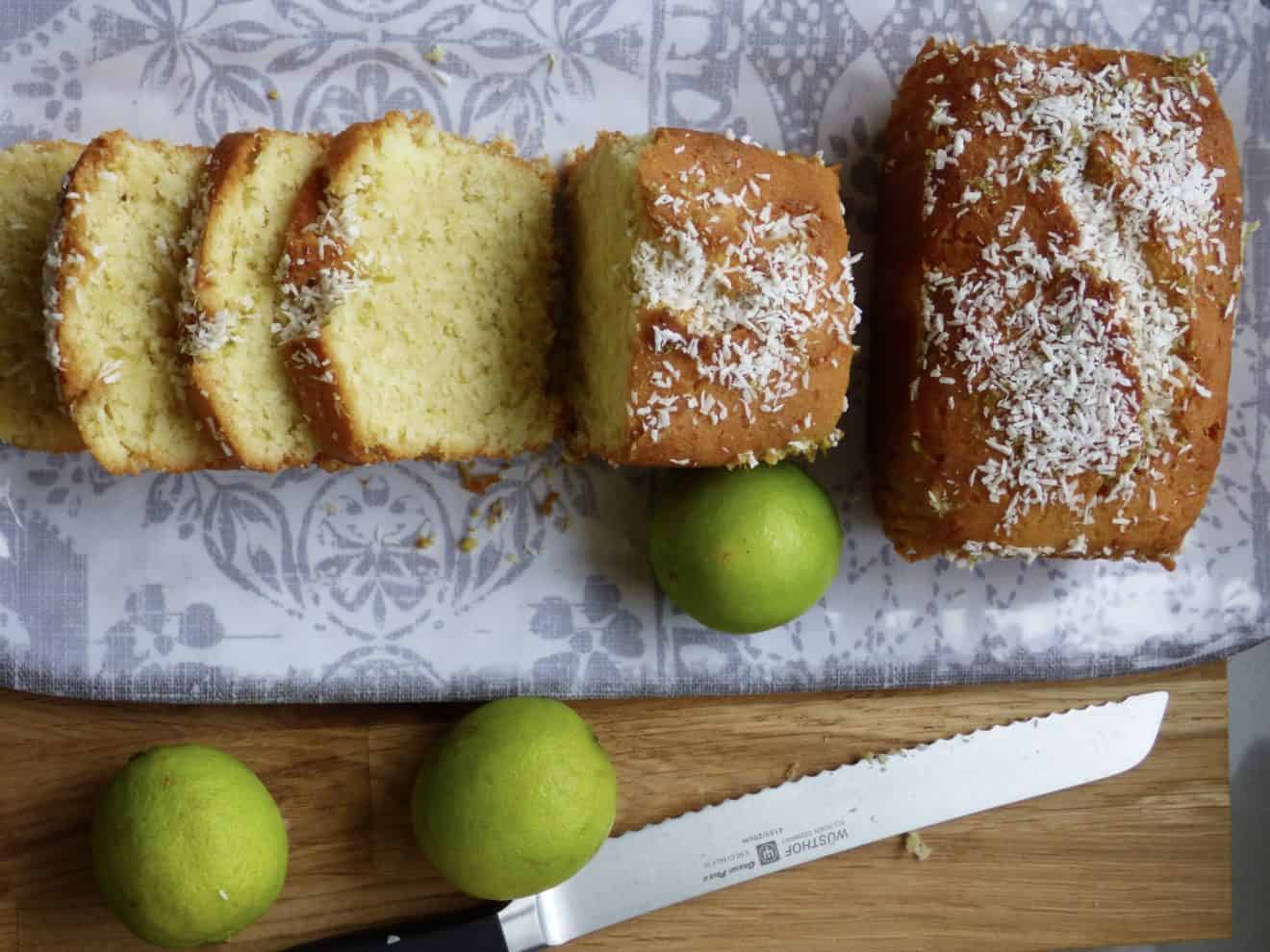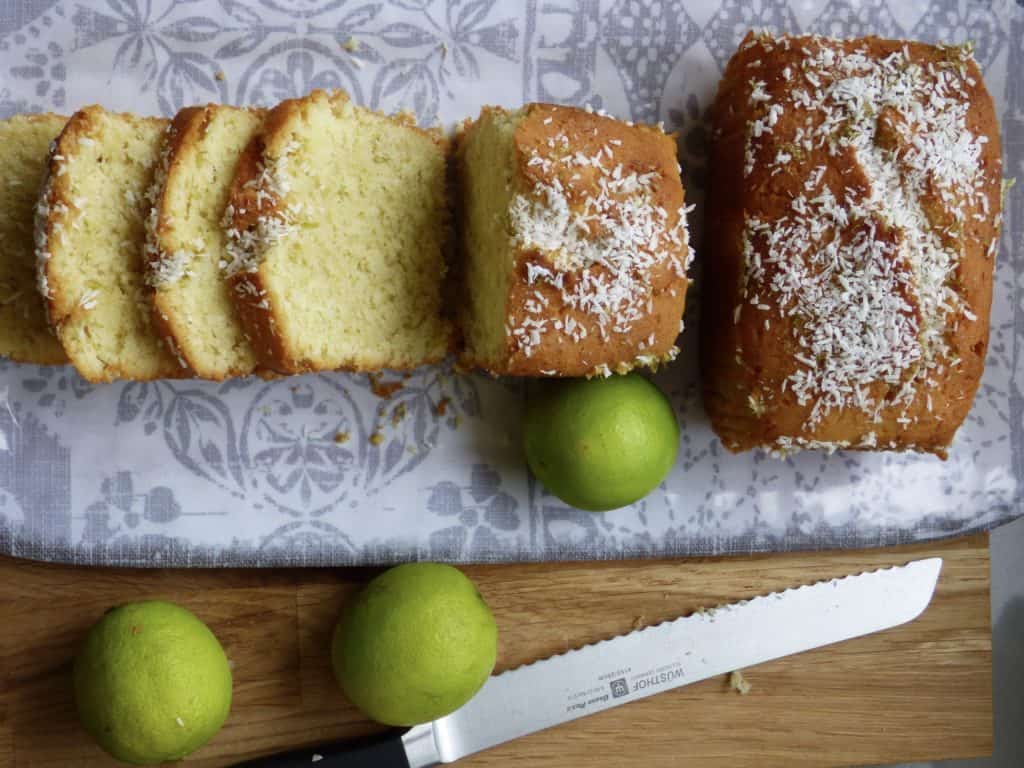 Every few weeks I make Madeleine Shaw's recipe for Cardamon Rice Pudding, which uses Basmati Rice rather than pudding rice and includes coconut cream instead of whole milk. Give it a try. I've not made conventional rice pudding since. It was a game changer for me. I omitted to make the compote, as suggested in Madeleine's recipe and use Bonne Maman preserves instead.
Madeleine's recipe uses Coconut Cream. But I always have at least 150g-200grams left over as the packets that I buy come in at 250g. The remainder usually rests forgotten at the back of the fridge, waiting for me to find a recipe that calls for a Coconut flavour.
A light bulb moment came as I was looking through an old Be Ro book, where I saw a recipe for a Coconut and Lime Cake using desiccated coconut. So I got to work and adapted the recipe.
1lb loaf tins vs 2lb loaf tins
Once again, I'm baking these loaves in 1lb loaf tins, because, they are much quicker to bake than a 2lb/900g loaf tin. And as always, I either give one to family members or freeze one for when I don't have time to bake.
This recipe for Fresh Strawberry Pound Cake and Marmalade Cake can be made using only one 1 x loaf tin.
Coconut Cream vs Coconut Milk
Coconut Cream is very rich, with a thick creamy texture and should not to be confused with Coconut milk which has a consistency of cows milk. Easy to remember, as their respective titles. One is a (thick) cream and the other is a (liquid) milk. If you were to use coconut milk, in this recipe, by mistake, you would change the consistency of the cake batter quite significantly. It would become very runny. Use the thick Coconut Cream instead.
This Cherry and Coconut Cake recipe also uses Coconut Cream and dried coconut. There's a lovely simple water icing on the top with slices of Glace Cherries.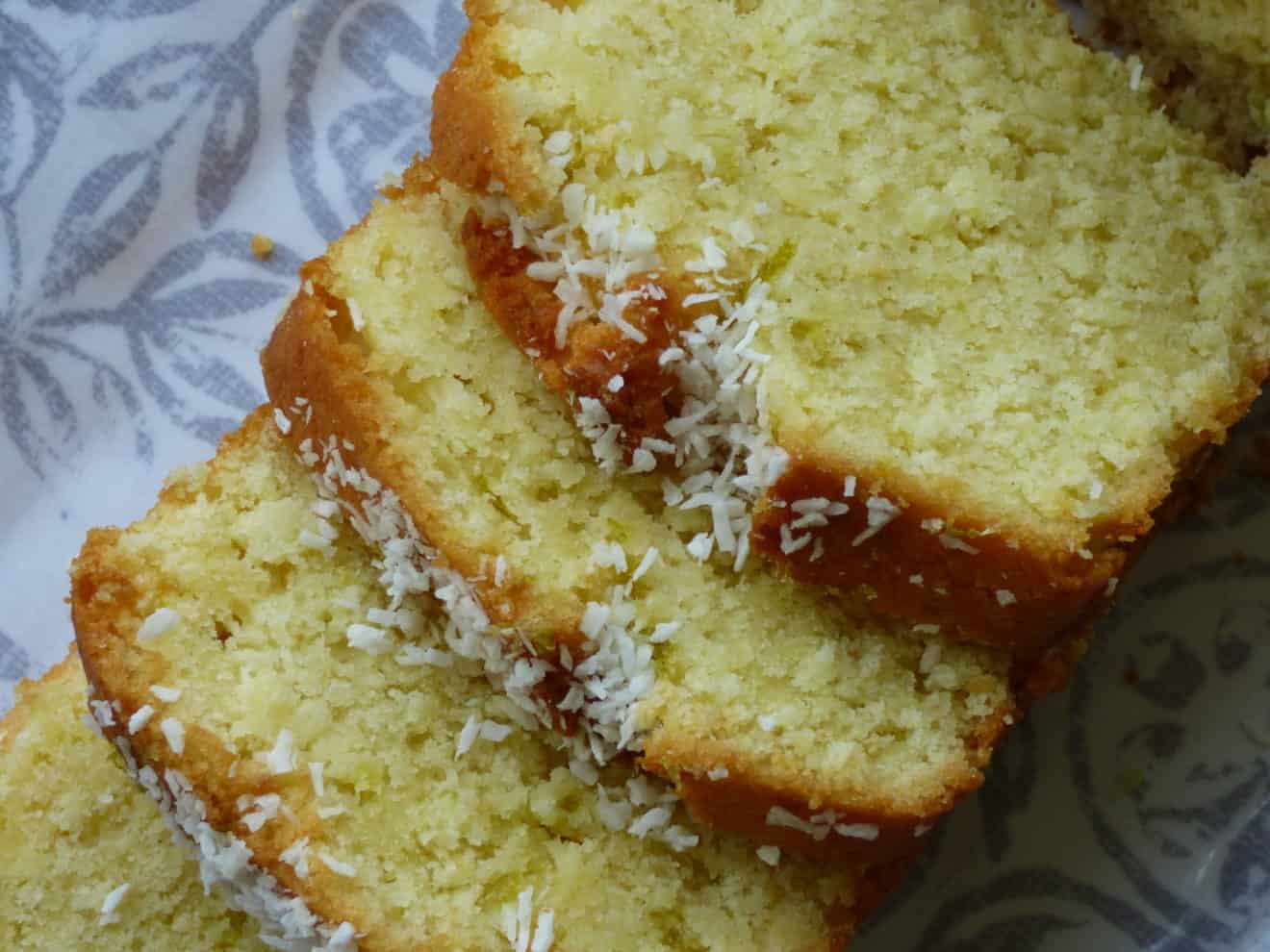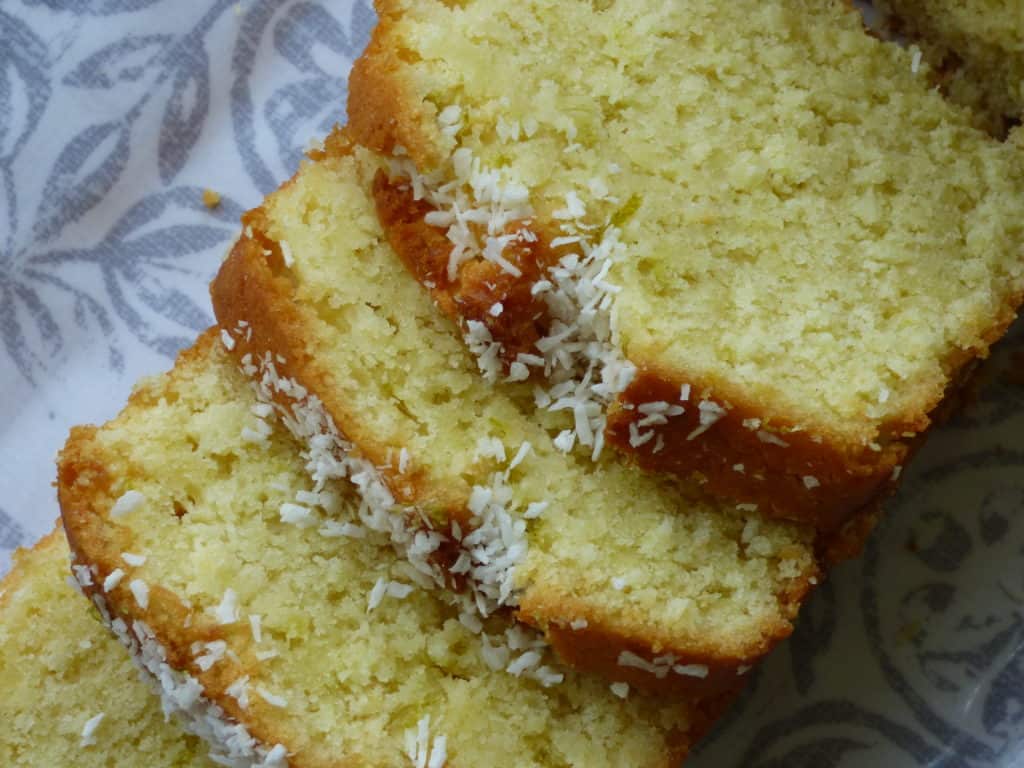 Not only did the Coconut Cream enhance the flavour of the desiccated coconut. It also made a really nice, not so dense, perfectly delicious crumb textured cake.
The coconut flavour is in no way over powering either. It balances the sharp Lime Syrup that is poured over each loaf after baking.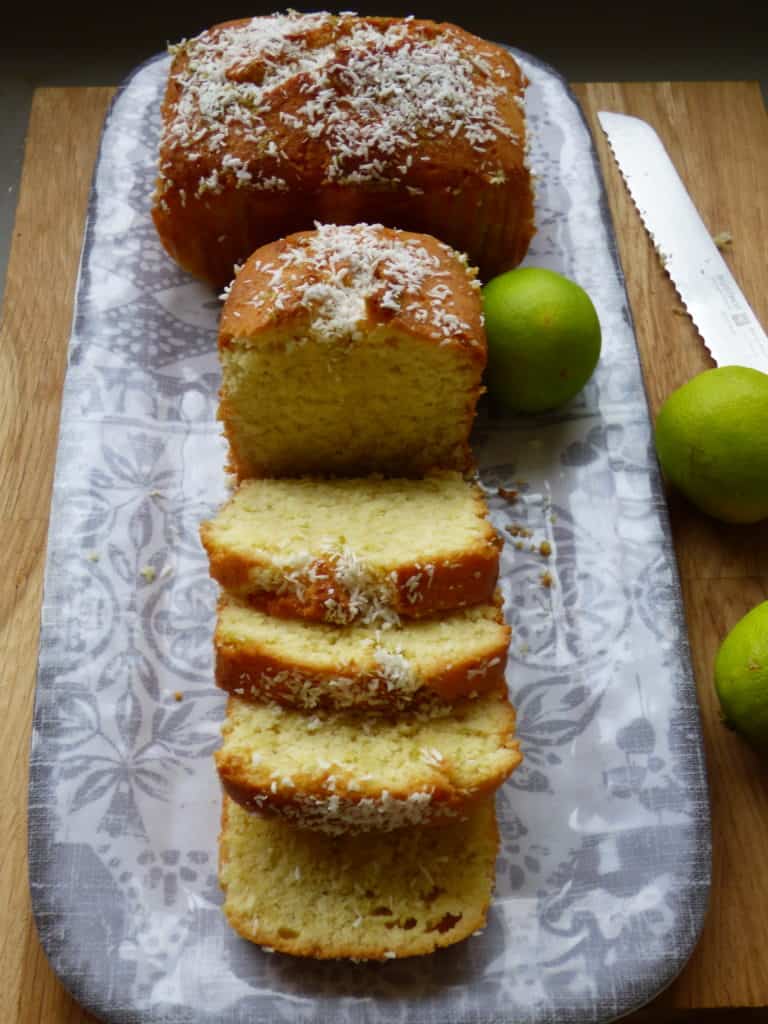 I'm confident that you will love this cake. It's zingy and cheek suckingly good, as all Citrus flavoured cakes should be, in my opinion. You could forgo the syrup and keep things simple and less sharp and tangy, with a scattering of coconut and Lime Zest.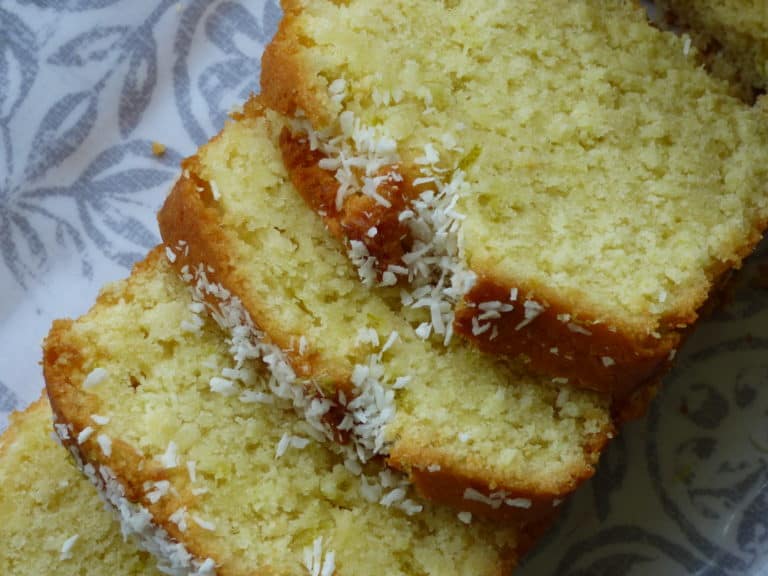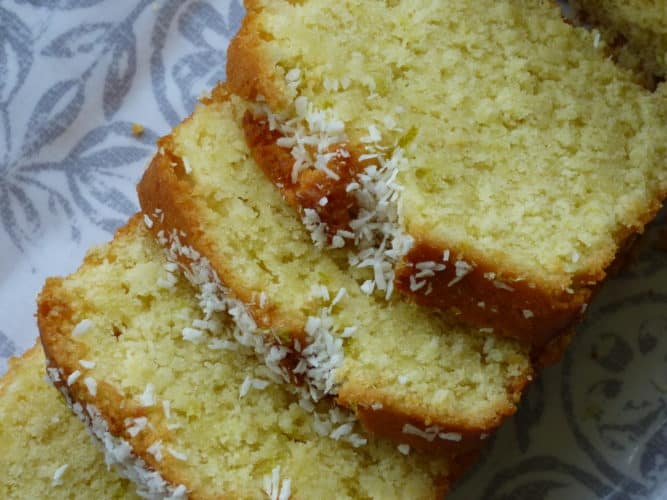 These loaves will keep in an airtight container for a few days. I've popped one of the loaves in the freezer to see how it tastes after a week or so. But if it's anything like the Date and Coffee loaves and Cranberry and Almond Loaves that I've frozen in the past. They'll taste great once brought back to room temperature before serving.
Keen to Bake More?
Subscribe to my newsletter.  Follow me on Facebook, Instagram and Pinterest. You are also welcome to join my Facebook group.
If you make this recipe, please leave a comment with a rating, to let me know how you got on.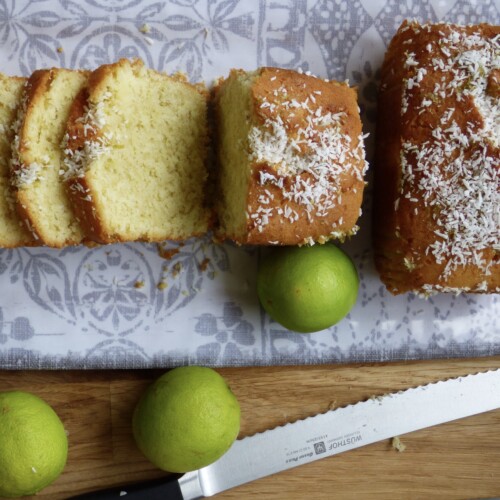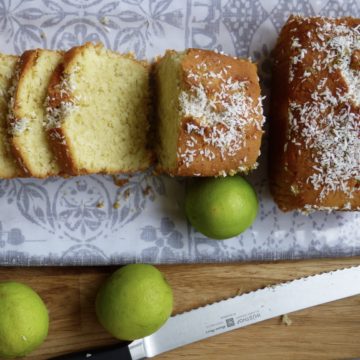 Coconut and Lime Cakes
Makes 2 x 1lb loaves. The Coconut Cream in this recipe enhances the flavour of the desiccated coconut. It also make a really nice, not so dense, perfectly delicious crumb texture.

The coconut flavour is in no way over powering either. It balances the sharp Lime Syrup that is poured over each cake after baking.
Equipment
1lb Loaf Tin

1lb Cake Liner or Baking Parchment
INGREDIENTS
225

g

butter

softened

200

g

caster sugar

4

medium eggs

225

g

self raising flour

150

g

Coconut Cream

50

g

desiccated coconut

Zest of 1 lime
Topping
Zest of 1 lime

Juice of 2 limes

use the juice of the left over lime from making the cake

2

tablespoons

caster sugar

1

tablespoons

coconut
Instructions
Preheat the oven to 170 deg fan assisted. Grease and line 2 x 1lb loaf tins with baking parchment or cake liners.

Using an electric mixer. Beat together the butter and sugar until light and fluffy.

Gradually add the eggs, one at a time. Adding a little flour between each one to help prevent curdling. Mix until well combined.

Add the remaining flour and mix until well combined.

Add the coconut cream. Mix until well combined

Add the coconut and Lime zest. Mix until well combined. Avoid using the electric mixer at this stage, as all the lime zest and coconut will end up wrapped around the beater. Such a waste. Far better to use a wooden spoon or spatula instead.

Bake in the centre of the oven for 40 – 45 + mins. Or until baked, testing the centre of each cake with a skewer until it comes out clean.

Leave in the tins to cool. Do not turn them out at this stage.

While the cakes are cooling. Make the Topping.

Mix together the sugar, zest and lime juice until the sugar has dissolved. No need to warm the syrup.

While the cakes are still slightly warm, spoon the syrup over each cake. Leaving the cakes in the tin allows for any syrup to soak through the cake rather than pour over the sides.

Finish off by sprinkling each cake with coconut.

Once the cakes have soaked up all the syrup, turn them out onto a wire rack to cool completely.
Notes
Will keep in an air tight tine for a few days.
Nutrition
Calories:
2193
kcal
Carbohydrates:
206
g
Protein:
30
g
Fat:
144
g
Saturated Fat:
99
g
Cholesterol:
569
mg
Sodium:
944
mg
Potassium:
640
mg
Fiber:
9
g
Sugar:
115
g
Vitamin A:
3285
IU
Vitamin C:
2.1
mg
Calcium:
108
mg
Iron:
5.1
mg