A Vanilla sheet cake with white chocolate frosting and fresh strawberries. An easy to make buttery, vanilla flavoured sponge. This recipe slices into 12 good portions. Adapt it with your own choice of fresh fruits.
A tea time treat for everyone...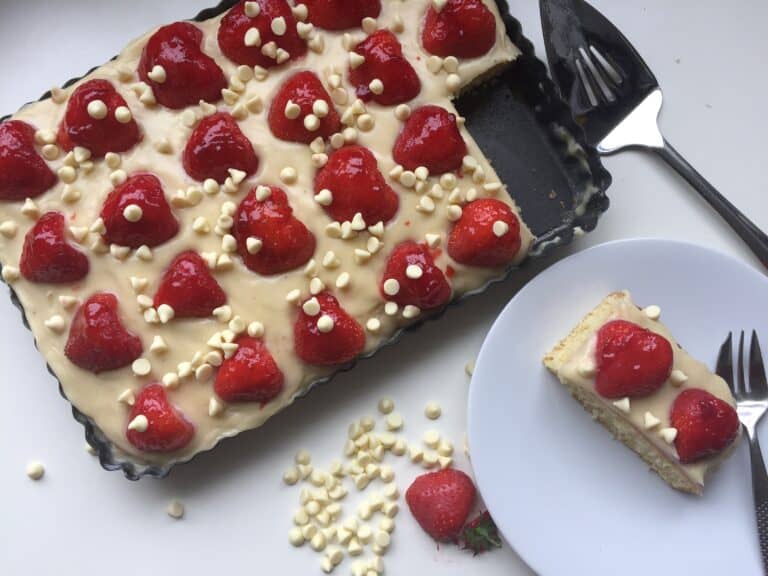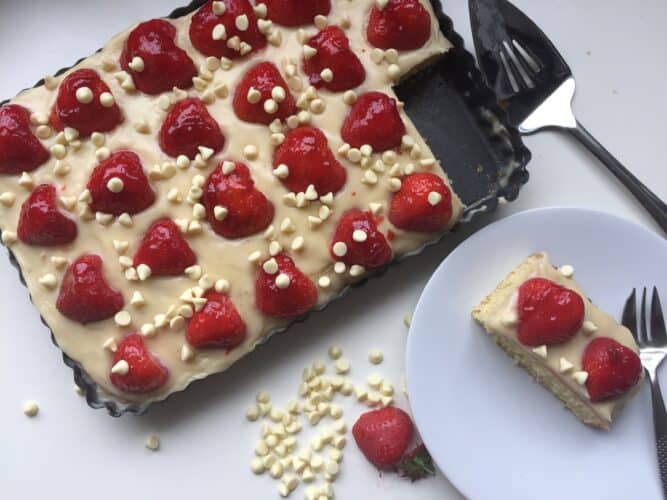 I love strawberry season. I'm eagerly waiting for the strawberries in my garden to ripen. I'm checking them daily hoping that the garden creatures have left enough for me to eat.
What alternative toppings can I add to this sheet cake recipe?
If you're not a fan of white chocolate, you could choose a different topping such as this easy chocolate glaze that hardens and doesn't crack when sliced. You'll need to add your choice of fruit before the chocolate hardens. Strawberries and dark chocolate would be very decadent.
Raspberries or a mix and match of other summer fruits are a great alternative to strawberries.
How to make Vanilla sheet cake topped with white chocolate frosting and fresh strawberries.
Step by Step instructions
Using an electric mixer, beat together the butter and sugar until light and fluffy. This will take only a couple of mins when using an electric beater. Scrape down the sides of the bowl as you go along.
Gradually add the eggs one at a time, the vanilla extract and a little of the flour. Mix until well combined. Tip: Adding a little flour between each egg will help prevent curdling. Add the remaining flour. Mix together until well combined.
Pour the cake mixture evenly into the prepared tin. Bake for 20-25 mins or until baked and lightly golden in colour. Testing the centre of the cake with a skewer until it comes out clean.
Leave in the tin to cool. Tip: If you leave the cake in the tin to cool completely, it will help prevent any frosting from running over the sides when the time comes to add the frosting.
While the cake is baking you can make the frosting.
Melt the chocolate, butter and cream in a heat proof bowl over a pan of simmering water. Take the bowl off the heat and let it cool a little. Add the icing sugar.
Make sure you sieve the icing sugar to avoid adding lumps. Mix until you have a nice smooth, thick but runny consistency. Tip: Transferring the melted mixture into a larger bowl will make it easier to mix in the icing sugar.
Leave the mixture to one side to set to a thick spreading consistency. Popping it in the fridge helps it to set. This could take about 1 hour or more.
Tip: Pour the frosting into a piping bag before it starts to set. This will make it much easier to spread the frosting over the cake.
When your cake has cooled completely, spread the white chocolate frosting over your cake. If using a disposable piping bag, snip the end to about ½ inch width and pipe evenly across the top of the cake. Smoothing it out to finish. Decorate with the strawberries.
Make the Strawberry glaze.
Gently soften the jam in a pan over a medium heat. Coat the strawberries using a pastry bush. Avoid getting the jam onto the frosting. Finish off with a scattering of white chocolate chips.
Additional info
Because of the fresh fruit, you are best keeping it in the fridge. It will keep for a couple of days. Bring back to room temperature before serving.
After a few hours, the juice from the fruit and the glaze may begin to seep onto the frosting, making it even more delicious.
I made this cake using a loose bottom oblong tart tin similar to this one from Lakeland.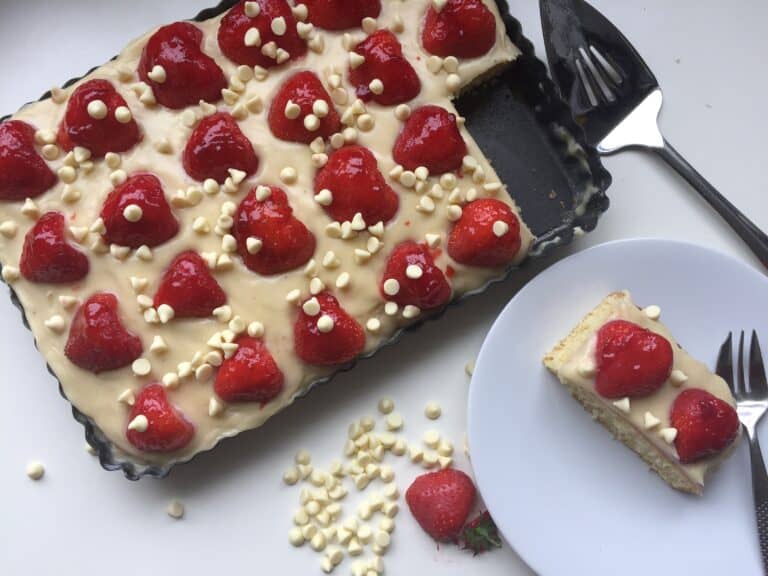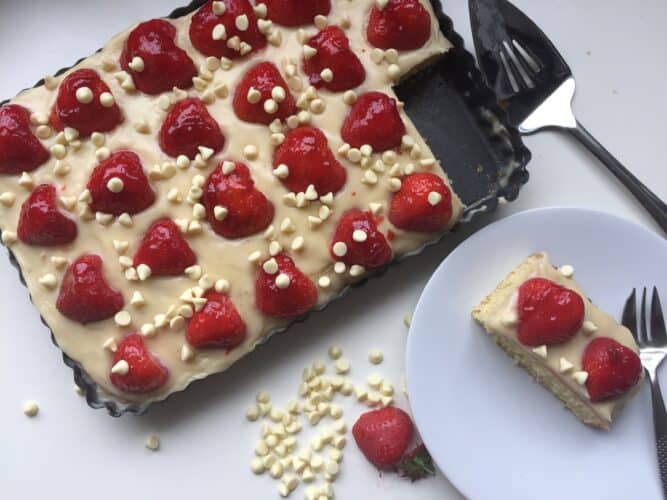 More delicious sheet cake/traybake recipes to make:
Chocolate Tray Bake with easy to slice hard chocolate topping.
Lemon Drizzle Traybake with Lemon zest and fresh lemon juice
Lemon, Almond and Poppy Seed Squares
Matcha Green Tea cake with a white chocolate frosting, topped with strawberries and Pistachio nuts
Cappuccino Cake with a white chocolate frosting
If you've tried this Vanilla sheet cake with white chocolate frosting and fresh strawberries or any other recipe on my blog. Please rate the recipe and leave a comment to let me know how you got on.
You will also find me on Instagram, Pinterest and in my Facebook community group which you are welcome to join.