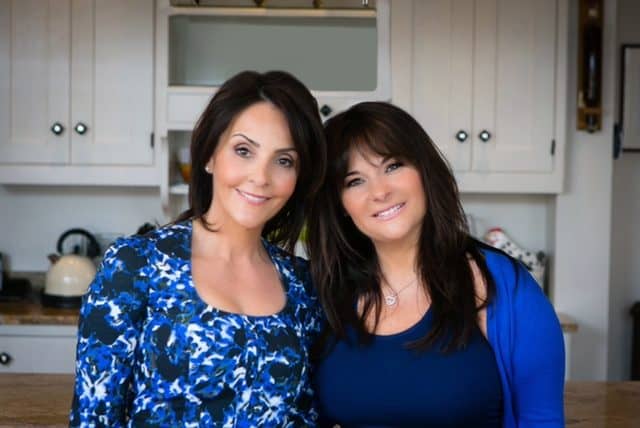 Tracey and Georgie's website | Instagram | Facebook | Twitter | YouTube
Recipe and article contributed by Tracey Fine and Georgie Tarn
Since a child I have always loved to bake and as I got older my biggest high (fellow bakers will understand) was to find a new ingredient that I could use in a new recipe. I wanted to wow my family and friends. There is nothing nicer than having people sit round the table and to watch their faces light up with sheer excitement when you bring into the room a masterpiece. You know you have done a good job when you hear oohs and aahs when they dig their forks in.
So in my latest book that I co-wrote with Georgie  "The Modern Jewish Table" available on Amazon, I wanted to work with Kataifi (shredded filo) pastry. I have always loved Baklava and cream cheese which are a fantastic combination, so I set to work to create a delicious recipe. At first I thought I would have a problem finding Kataifi but I found it in the freezer of my local greek deli and also on good old Amazon!
When we photographed this masterpiece with Rupa and Mandy for our latest book, we all ended up having a slice with a cup of tea after the shoot. They have become very good friends of ours who we met on a food styling course at Leiths. The cake had the desired effect, as they are fellow foodies and loved the mix of rose water, lemon, cheese and pastry. Rupa requested I should make one for her big birthday that was coming up.
So if you are bored with the same old recipes why not try something new? I want to share with you this recipe and would love to hear what you all think.  Happy baking.
Find our more about Tracey Fine 
Amazon Affiliate link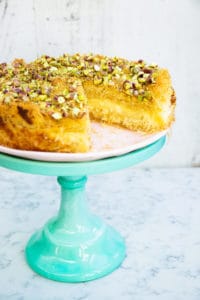 Kunafa Middle Eastern Cheesecake
Image credit: Photography ~ Rupa Photography London. Food styling ~ Mandy Thompson. Recipe contributed by Tracey Fine and Georgie Tarn "You don't have to be a genie to make this Middle Eastern cheesecake, but it looks and tastes genius" This recipe can also be found in "The Modern Jewish Table" by Tracey Fine and Georgie Tarn. Aka The Jewish Princesses.
Ingredients - Imperial /oz are approx weights which are calculated by a 3rd party app
300

g

caster sugar

200

ml

water

2

tbs

lemon juice

1/4

teaspoon

rosewater

200

g

butter

melted

500

g

kunafa pastry.

This is shredded filo dough and can be found in Greek or Middle Eastern delicatessens.

250

g

ricotta cheese

250

g

mascarpone cheese

2

large egg yolks

50

g

caster sugar

100

g

blanched almonds

100

g

chopped pistachios
Instructions
Pre-heat oven 180c

In a heavy bottomed saucepan place sugar, water and lemon juice.

Bring to the boil and then simmer on a low light for approximately 10 minutes or until the liquid has become a syrup, remove from heat and leave to cool.

When the syrup has cooled add the rose water and then set aside to be used later.

Melt the butter and use a little to grease a 28cm spring form tin.

In a large bowl break apart the Kunafa pastry until all the shreds are loose

Mix the butter in, using your hands, so all the pastry is well coated

Beat together ricotta cheese, mascarpone cheese, egg yolks and caster sugar until smooth

Take a greased 28cm springform tin and sprinkle blanched almonds over the bottom.

Take half of the Kunafa dough and place over the almonds, pressing it down

Spread the cheese mixture over the Kunafa, using a palette knife so you have an even layer.

Take the other half of the Kunafa dough and press over the top.

Bake for approximately 40 minutes until golden.

Remove from the oven and sprinkle ground pistachios on the top

Pour over the rosewater syrup evenly over the cake.

Leave to cool and remove from tin.
Nutrition
Calories:
594
kcal
Carbohydrates:
56
g
Protein:
11
g
Fat:
37
g
Saturated Fat:
18
g
Cholesterol:
100
mg
Sodium:
354
mg
Potassium:
199
mg
Fiber:
2
g
Sugar:
30
g
Vitamin A:
865
IU
Vitamin C:
1.2
mg
Calcium:
113
mg
Iron:
2.1
mg