An easy, no bake, gift to make.
Makes 2 x 8ins wreaths and 1 x 7 ins wreath.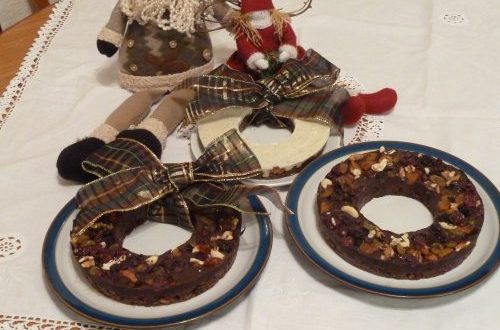 Christmas Fruit and Nut Tiffin Wreath
An easy, no bake, gift to make. Makes 2 x 8ins wreaths and 1 x 7 ins wreath.
INGREDIENTS
For the wreath
200

grams

Butter

50

grams

Light brown sugar

5

tbs

Cocoa powder

8

tbs

Golden Syrup

450

grams

Digestive biscuits

crushed finely

400

grams

Sultanas or Mixed dried fruits

200

grams

White chocolate

1

Vanilla pod

300

grams

Dark chocolate
For the Topping
290

grams

Mix of Dried Fruits and Nuts of your choice.
Instructions
Have ready 2 x 8ins sandwich tins and 1 x 7ins sandwich tin with circular pastry/cookie cutters placed in the centre of each tin. No need to line them.

Place the butter, sugar, cocoa powder and syrup in a pan and heat until melted and fully combined.

Remove from the heat and add the sultanas and crushed biscuits.

Stir until well covered with the cocoa mixture. This will take time so be patient. Don't be tempted to add any additional liquid, you'll be sorry if you do, it just won't set.

Divide the mixture into each of the prepared sandwich tins (not in the centre ring), firmly pressing down with a spoon. Place in the fridge to set completely

In the mean time, melt the chocolates separately in clean bowls over a pan of simmering water

Add the seeds of a vanilla pod to the melted white chocolate. Do not be tempted to add any liquid vanilla flavouring as this may alter the state of the chocolate and it may not set later.

Save the remaining vanilla pod and add to your caster sugar making vanilla sugar. Good for baking another time.

Cover the small wreath with the white chocolate. Cover the two other wreaths with the dark chocolate.

Add the fruit and nut topping to the dark chocolate wreaths pressing down gently to make sure contact is made with the melted chocolate.

Leave the white chocolate wreath to set

Place all 3 wreaths in a cool place to set completely.

When completely set, score around the inner and outer edges of the tins and rings with a sharp knife. Have a plate ready and remove the wreaths.

To decorate add some ribbon for a festive touch.

They are not suitable for hanging, far too heavy. They will look fabulous on any table or gift wrapped as a present.