Produce a soft crusted loaf with a nice tasty crumb. A review of Carrs easy to use Bread Mixes. Just add water and a little butter.
Using bread mixes is a great way to start your bread-making journey if you are a new home baker. Or need to quickly get some bread going while you get on with other things.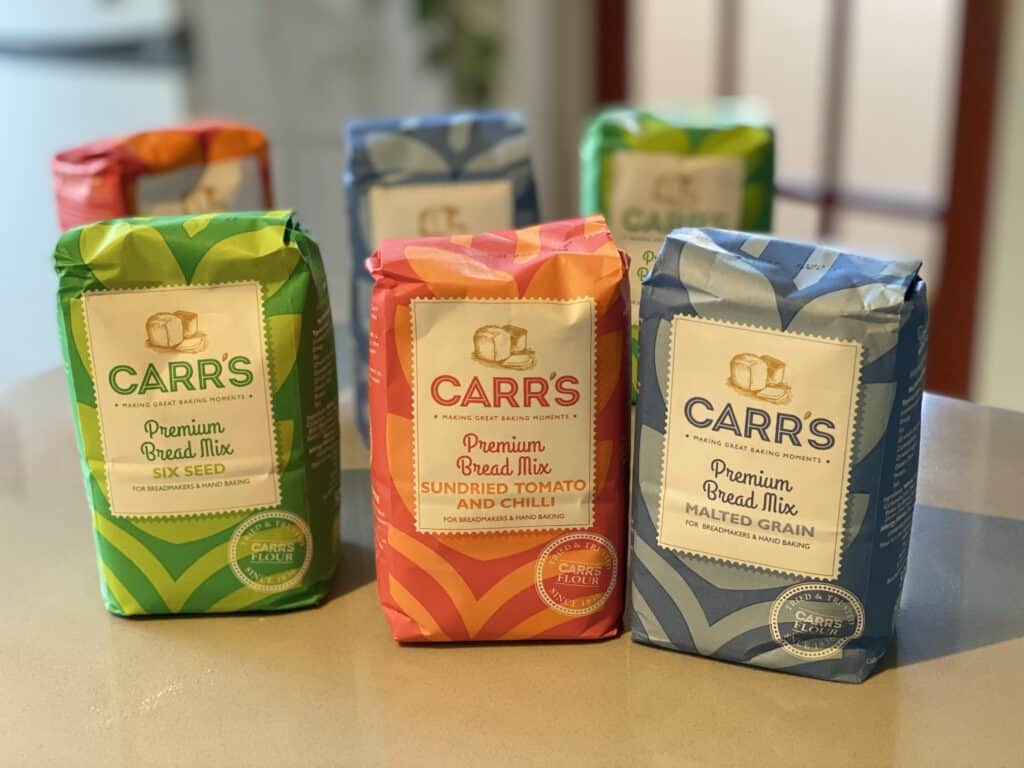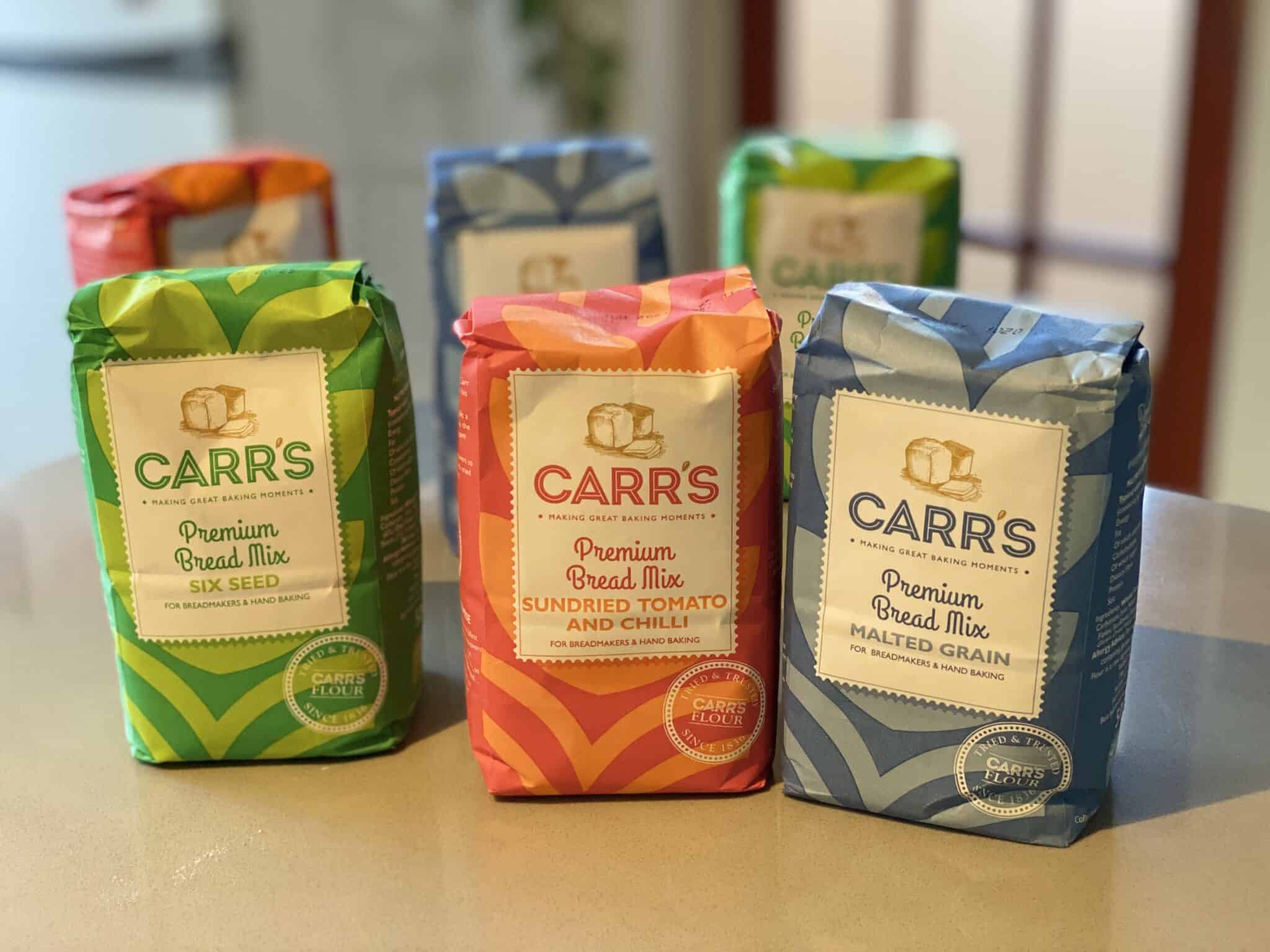 This is a gifted post, I was sent a baking bundle of Carrs new range of Bread Mixes. The bundle consisted of the following bags, each weighing 500g.
"Six Seed Mix – a generous blend of six different seeds, including sunflower, pumpkin and poppy seeds for added texture and goodness
Malted Grain – featuring the delightful inclusion of malted wheat for a deliciously nutty flavour.
Sundried Tomato & Chilli, an exciting and flavourful combination that gives an extra zing to your daily bread"
I love making bread, I make up to 4 loaves each week. Ranging from Sourdough to a simple Easy White Bread Recipe to this Easy Brown Bread Recipe.
If you would like to try making Sourdough, read my review of Whole Grain Sourdough at Home by Elaine Boddy.
Carrs Flour Bread Mixes
The two mixes I have tried so far were the Malted Grain and the Six Seed Mix. I followed the recipes on the packets which were very easy to follow.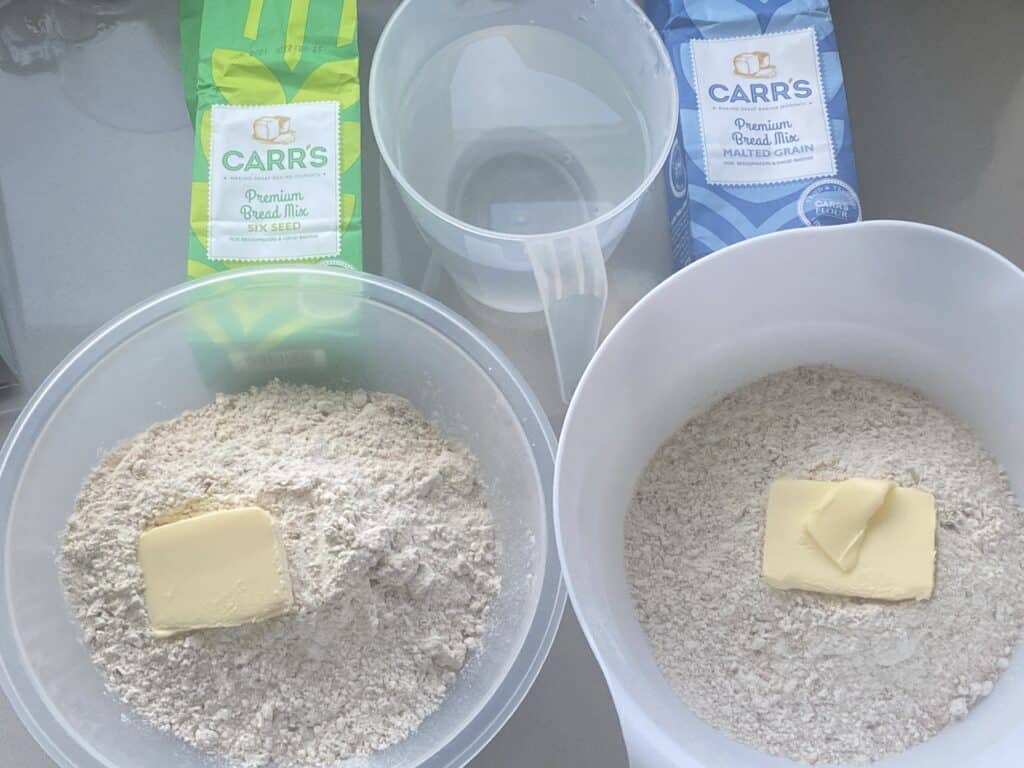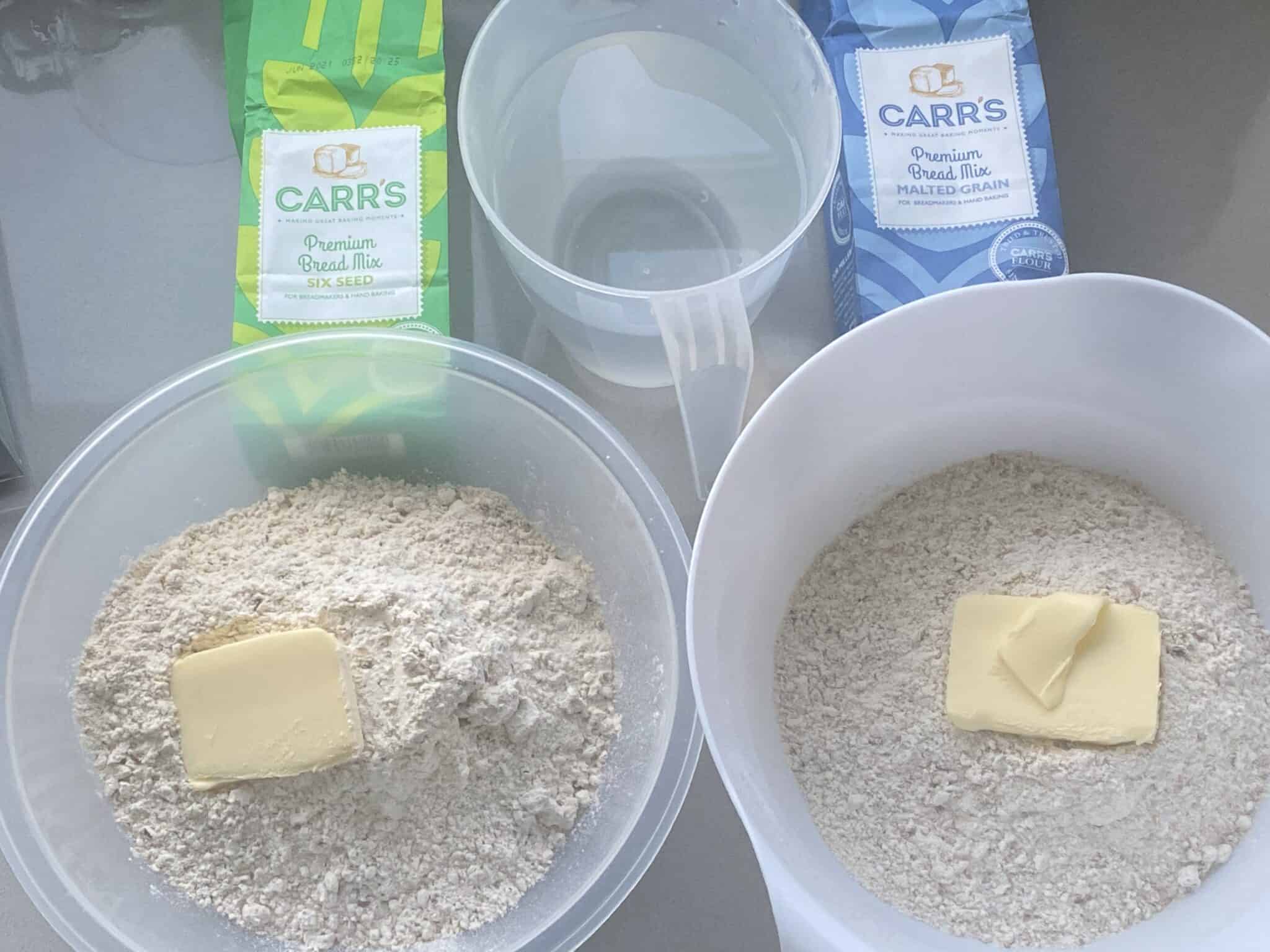 The only additional ingredients you are required to add are butter and water. The butter is rubbed into the dry ingredients using your finger tips, in a similar fashion to making pastry.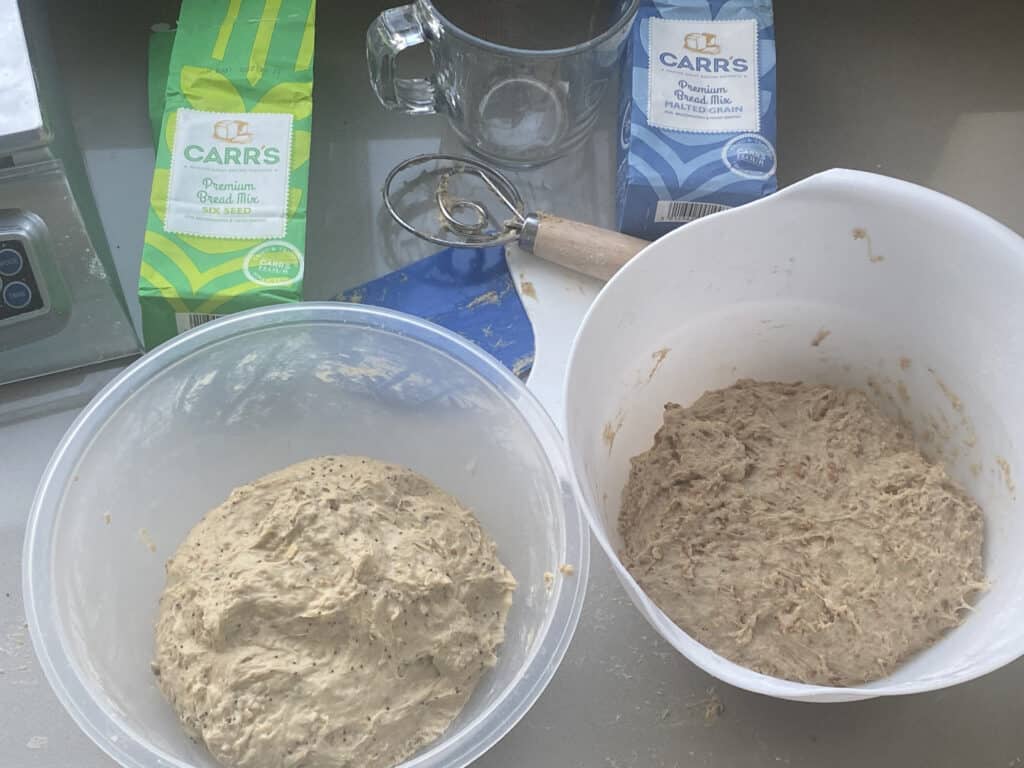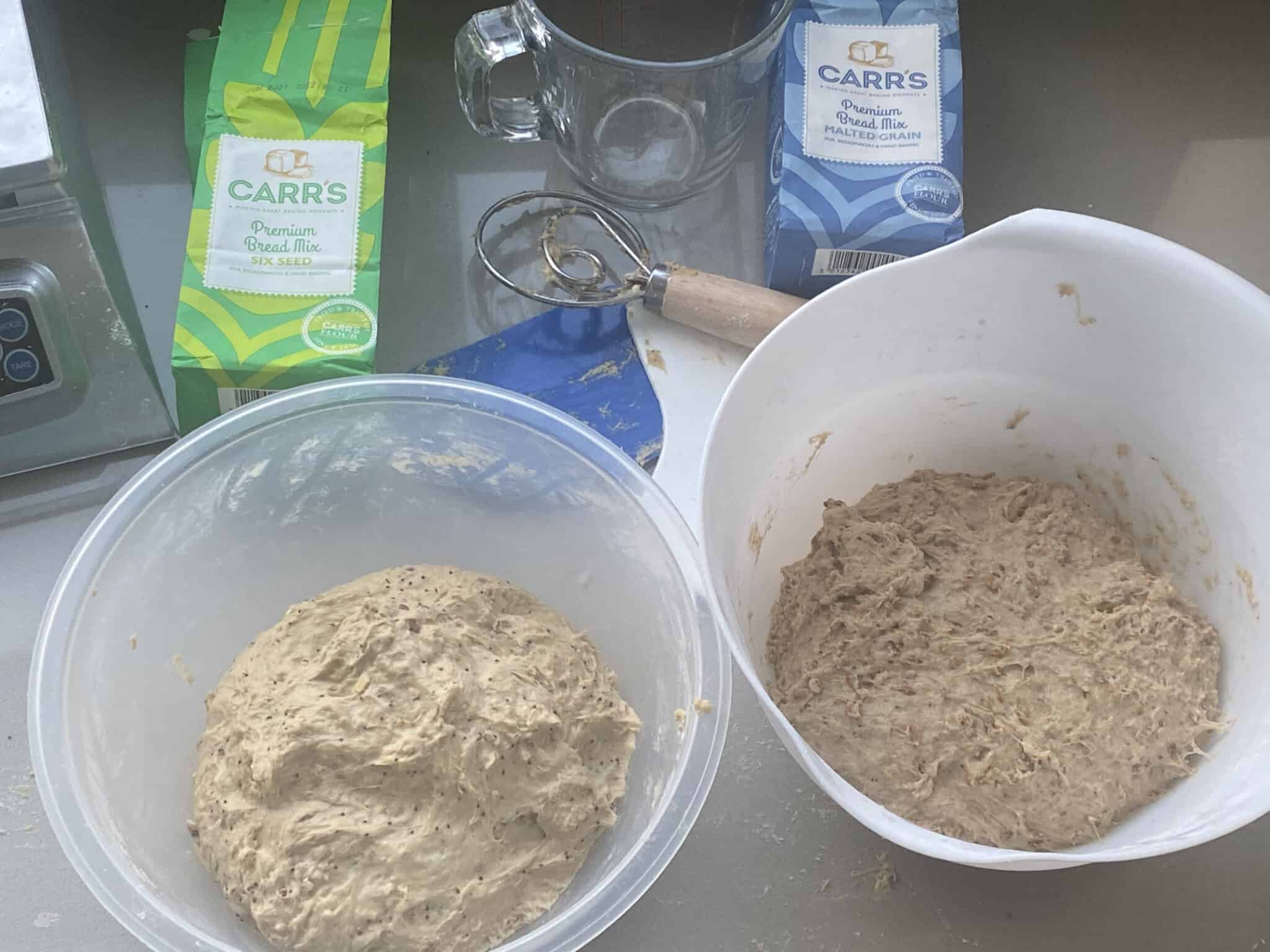 Each packet required a slightly different amount of water to be added to the dry mix, I found both mixes created quite a wet dough. I can imagine the new bread baker may find this a little daunting at first, but having baked a few breads in my time, it was something I could deal with.
While you may be tempted to add more flour, this would be a mistake. As this can often produce a dense crumb and texture. Best keep to the instructions on the packet until you become more accustomed to baking bread.
The dough didn't take long to rise the first time around, the packet said about 1 hour and that's all it took in my kitchen. If your kitchen is on the warm side, it may rise quicker. Likewise if your kitchen is on the cool side, it will take longer.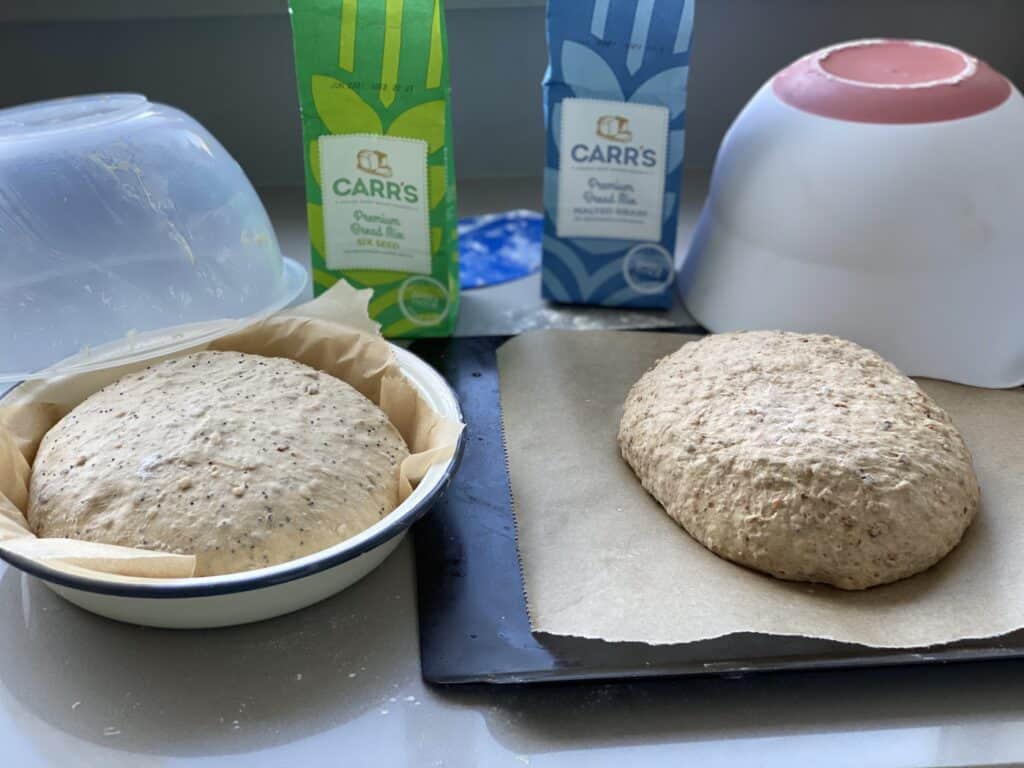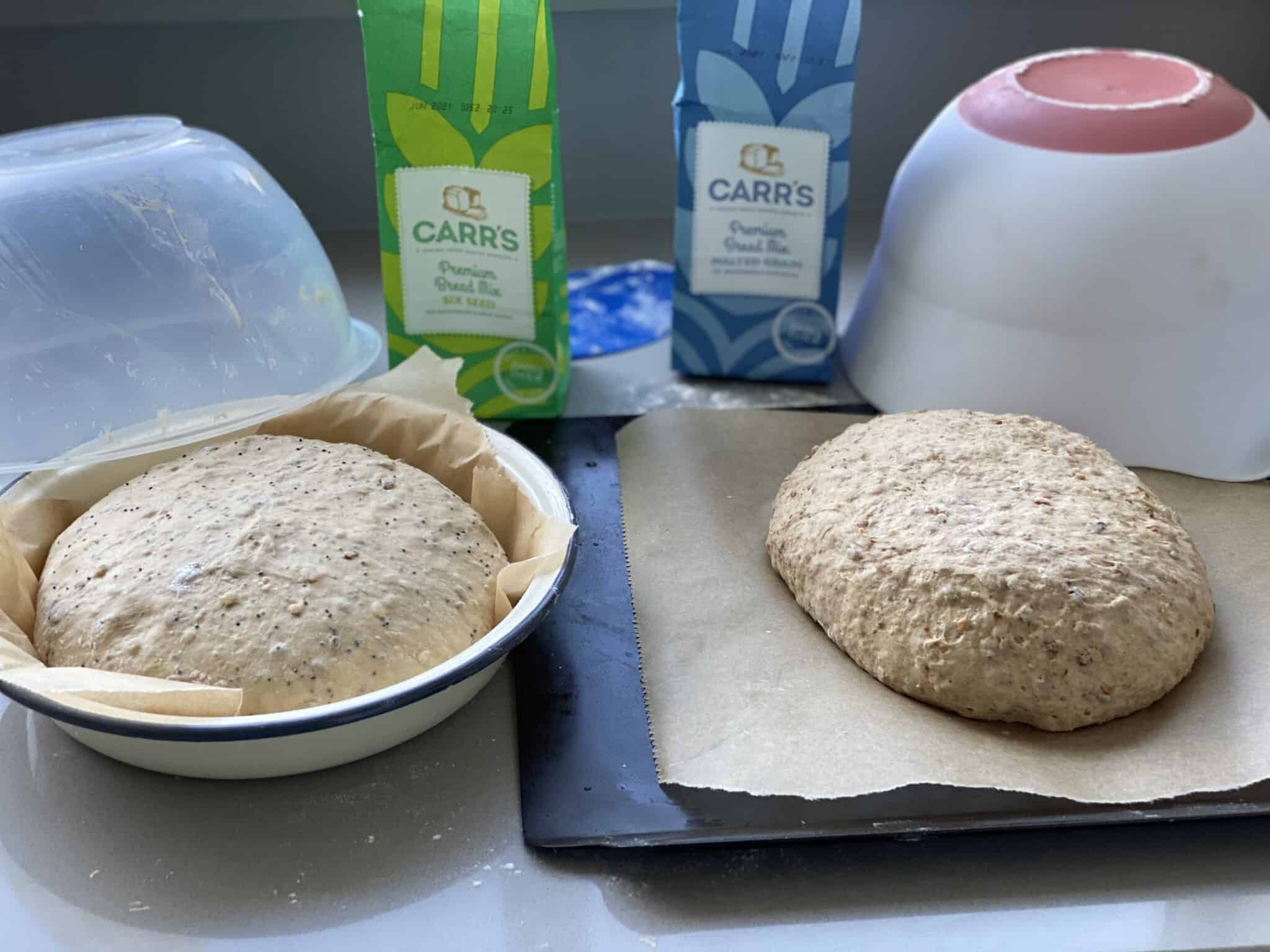 After the first proof, all that was required is to knock back the dough and shape it into a 'Round Boule'. I decided to place the Six Seed dough into a shallow pie dish lined with baking parchment. I've used this method when making sourdough bread, it helps prevent the sides of the dough from spreading, giving it a better lift during baking.
To help with the second proofing, I placed the bowls over the top of the dough to keep it from getting dry and to help it rise.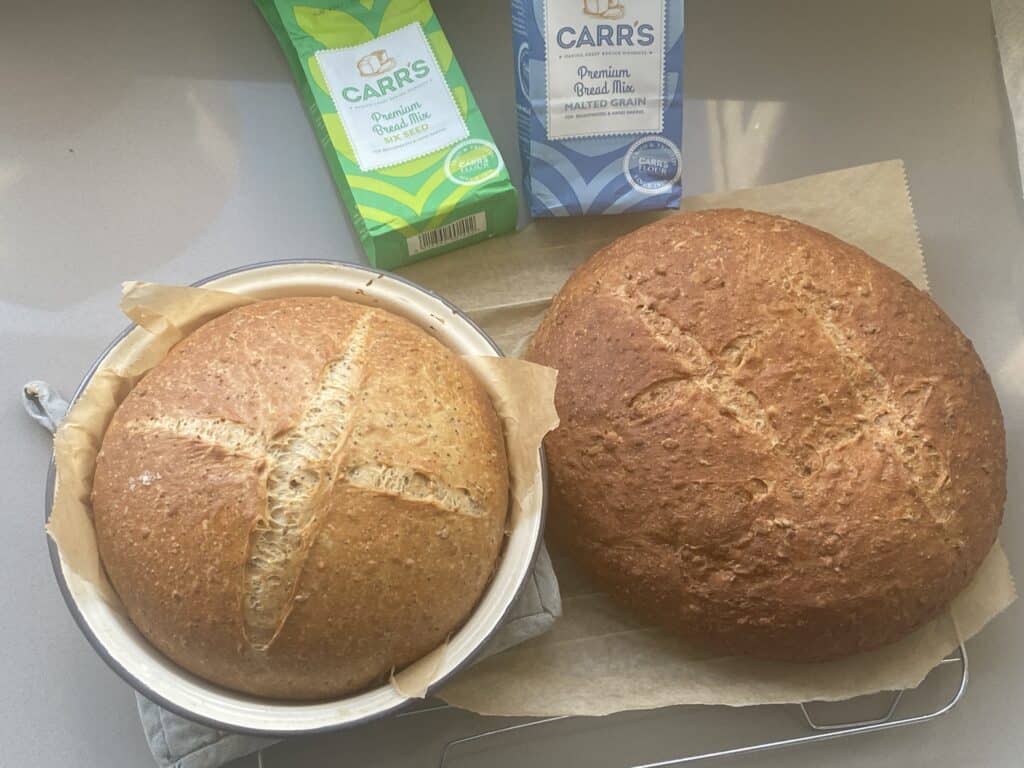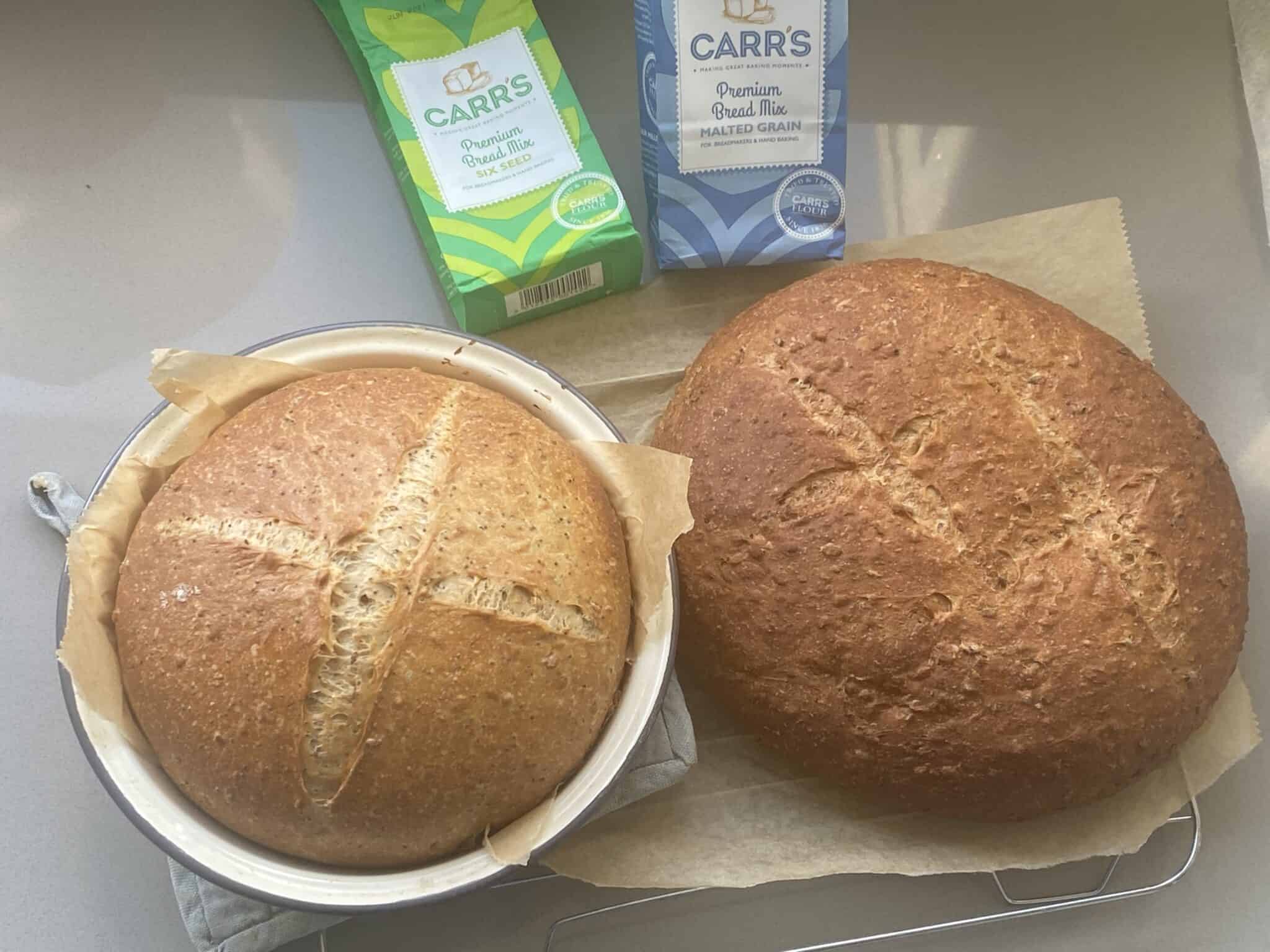 Carrs Malted Grain Loaf Bread Mix
The Malted Grain dough I left as instructed, to knock it back and turn it into a 'Round Boule'. With such a wet batter, it did spread a little during the second proof which resulted in a flatter bake.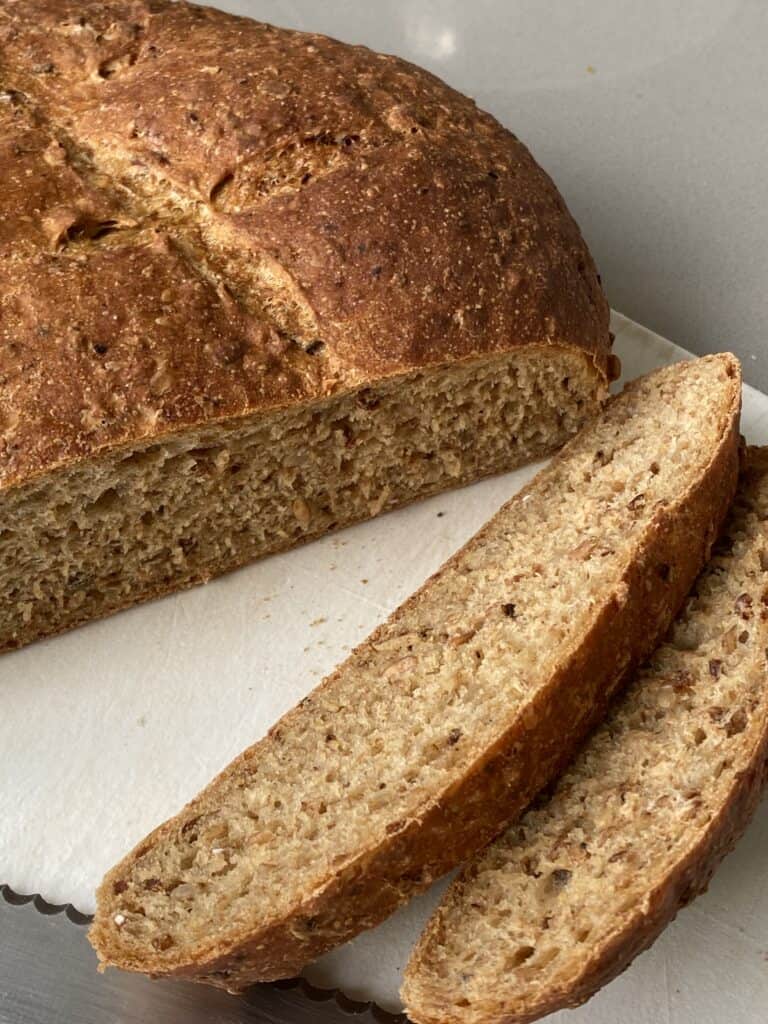 As you can see from the picture, it produced a lovely thin, soft crust with a good crumb and texture. I found the taste was lovely too, something all the family enjoyed.
Carrs Six Seed Bread Mix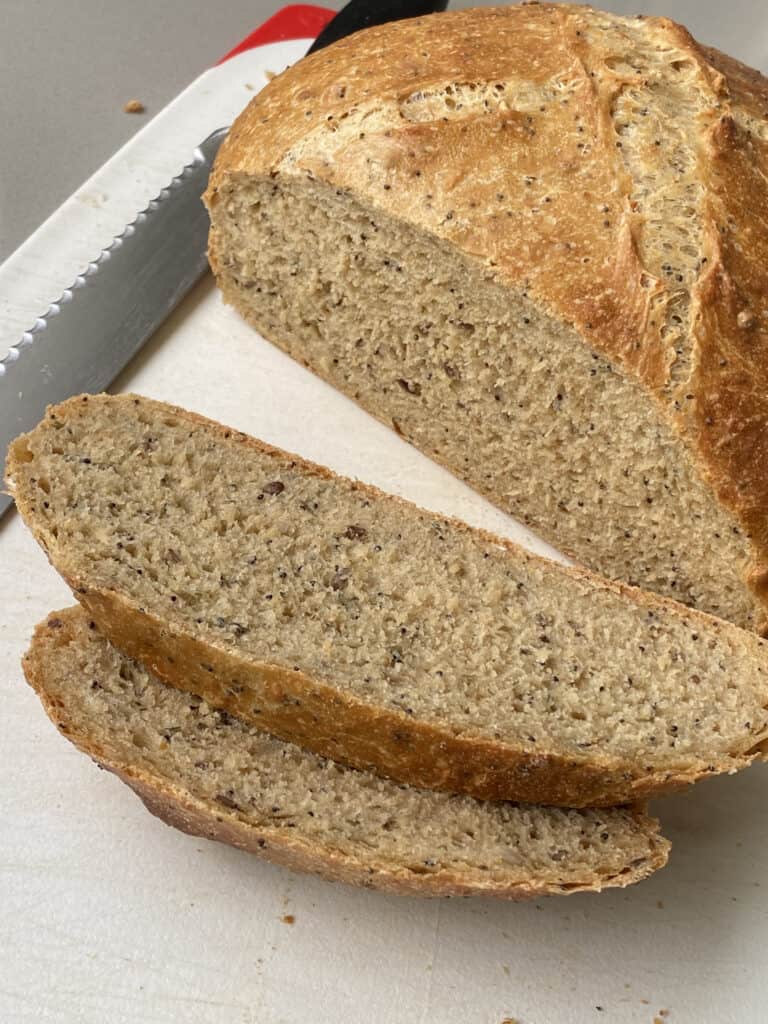 The end result was a much better rise as I'd baked it in a shallow pie tin. This allowed the dough to rise more than the Malted Grain mix.
The crust was equally as thin and soft, and the crumb was delightful and very tasty too.
Both bread mixes produced good tasty loaves.
Tips and FAQ'S
If you find your Carrs bread dough mix is too wet, don't be tempted to add more flour. Keep to the instructions on the sides of the packet and keep kneading. Get to know your bread and how it feels for next time.
Personally, I'd be tempted to add a little less water the next time, but not by much. Once you begin to get a feel for bread making you can start to make adjustments each time you bake.
Can Carrs Bread Mixes be used in Bread Makers?
Carrs Bread Mixes can be used in a breadmaker. Instructions are given on the sides of their packet mixes.
Can Carrs Bread Mixes be baked in Loaf Tins?
One 500g packet should produce enough dough to bake in a deep sided 2lb loaf tin or 2 x 1lb loaf tins. Just make sure that you do not let the dough over rise on the second proofing stage or the dough may bake over the sides or worst still sink in the middle as you lift it into the oven to bake.
Do you use Bread Mixes?
If you use Bread Mixes, I'd love to know which are your favourite flavours. Please leave a comment below and let me know what you think.