Whole Grain Sourdough at Home, cook book by Elaine Boddy, will help you start or regenerate your Sourdough baking. A full review of the book.
Full of recipes using Ancient Grain Flours side by side with traditional Strong White Flour.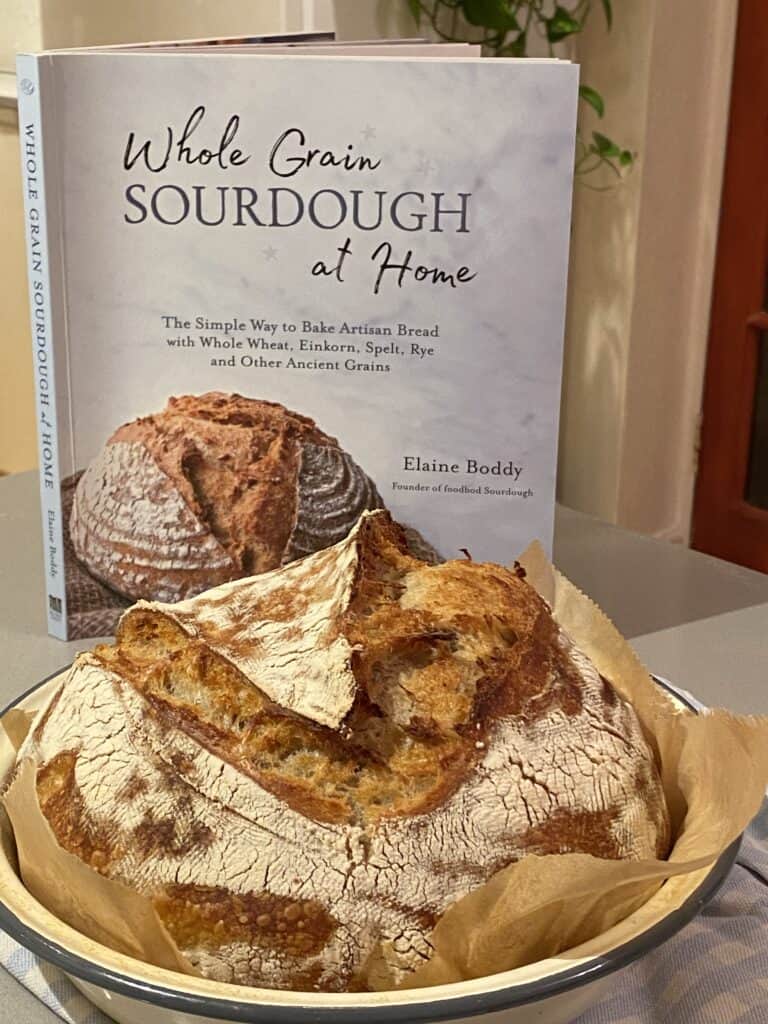 Cook Book Review.
Jump to:
During the difficult year of 2020 I found myself making more and more bread, at least 6 small round loaves per week.
My go to recipes are Easy White Bread recipe which uses Fast Active Dried yeast and Easy Brown Bread Recipe using fresh yeast.
By the end of the year, my sourdough starter (aka mother) and Sourdough baking took a back seat. I'd neglected the starter and threw it away. I have since learned that even with some neglect it's almost impossible to destroy a sourdough starter.
I felt I was wasting far too much flour in keeping my sourdough starter alive with all the discarding that you often have to do and wanted to find a way to avoid waste. Making sourdough pancakes using left over starter helped. But I was still wasting far too much flour.
Now, whenever I have enough sourdough starter left over, I like to make these Easy Banana Pancakes. They are great for a weekend breakfast.
Introduction to the Book
I wanted to regenerate my love for sourdough baking. I'd heard that fellow Guild of Food Writer member Elaine Boddy had published a new book with recipes for 'The Simple Way to Bake Artisan Bread with Whole Wheat, Einkirn, Spelt, Rye and Other Ancient Grains'. So I bought the book.
While I waited for the book to arrive, I followed Elaine's instructions on How to Make a Sourdough Starter. Within 7 days, I had enough bubbles to make my first Sourdough Loaf.
I was keen to get baking and started with Elaine's 'Super Lazy Sourdough Master' recipe. With a much shorter folding a proofing time, the sourdough taste was light and delicate.
It produced a lovely tasting loaf, I was thrilled with the result.
Types of Sourdough Recipes
Master Sourdough Recipes
Elaine has three Master sourdough recipes that you can follow. Not all of the Master recipes start at the same time but with the timetables given, it's possible to fit something in with your daily routine. Sourdough needs very little hands on work. Most of the time it is left to proof and mature.
It takes only a few minutes to perform all the pulls and folds between proofing.
Super Lazy Sourdough Master
This was the first master recipe I used and is ideal when you don't have the time to perform some of the necessary pulls and folds. It produced great results for my first recipe from the book.
Same Day Sourdough Master
Elaine sets out all the timings you need to have a fully baked Sourdough loaf by late afternoon. Starting at 9:30am and baking in the oven by 5pm.
Review of the Master Sourdough Recipe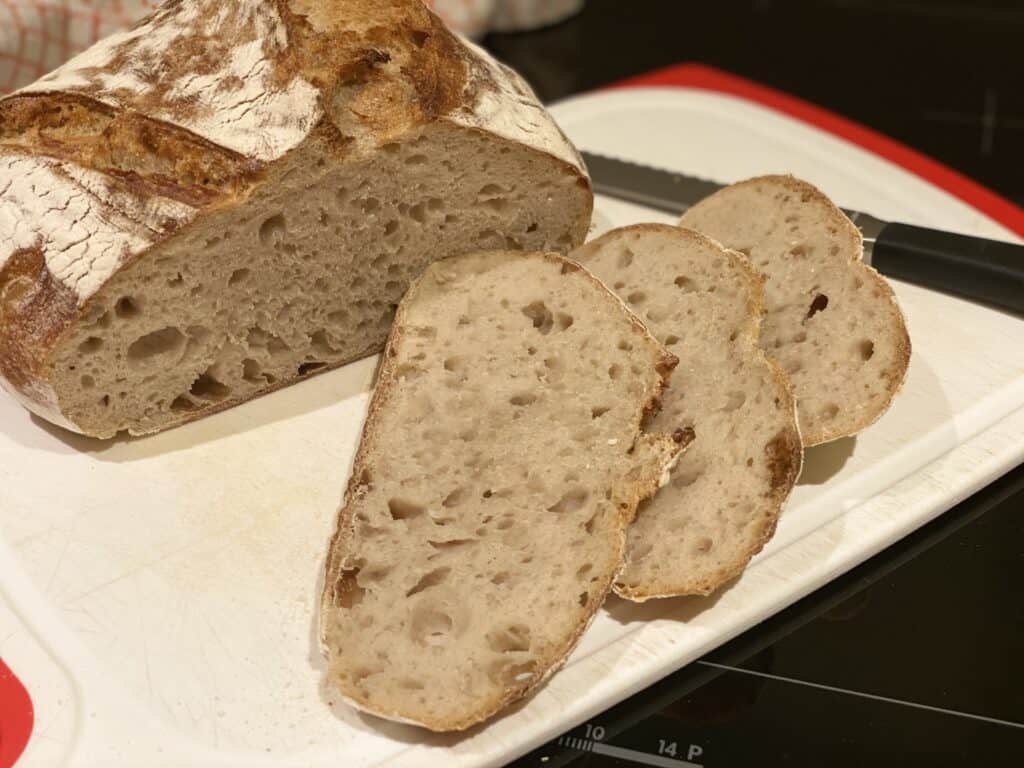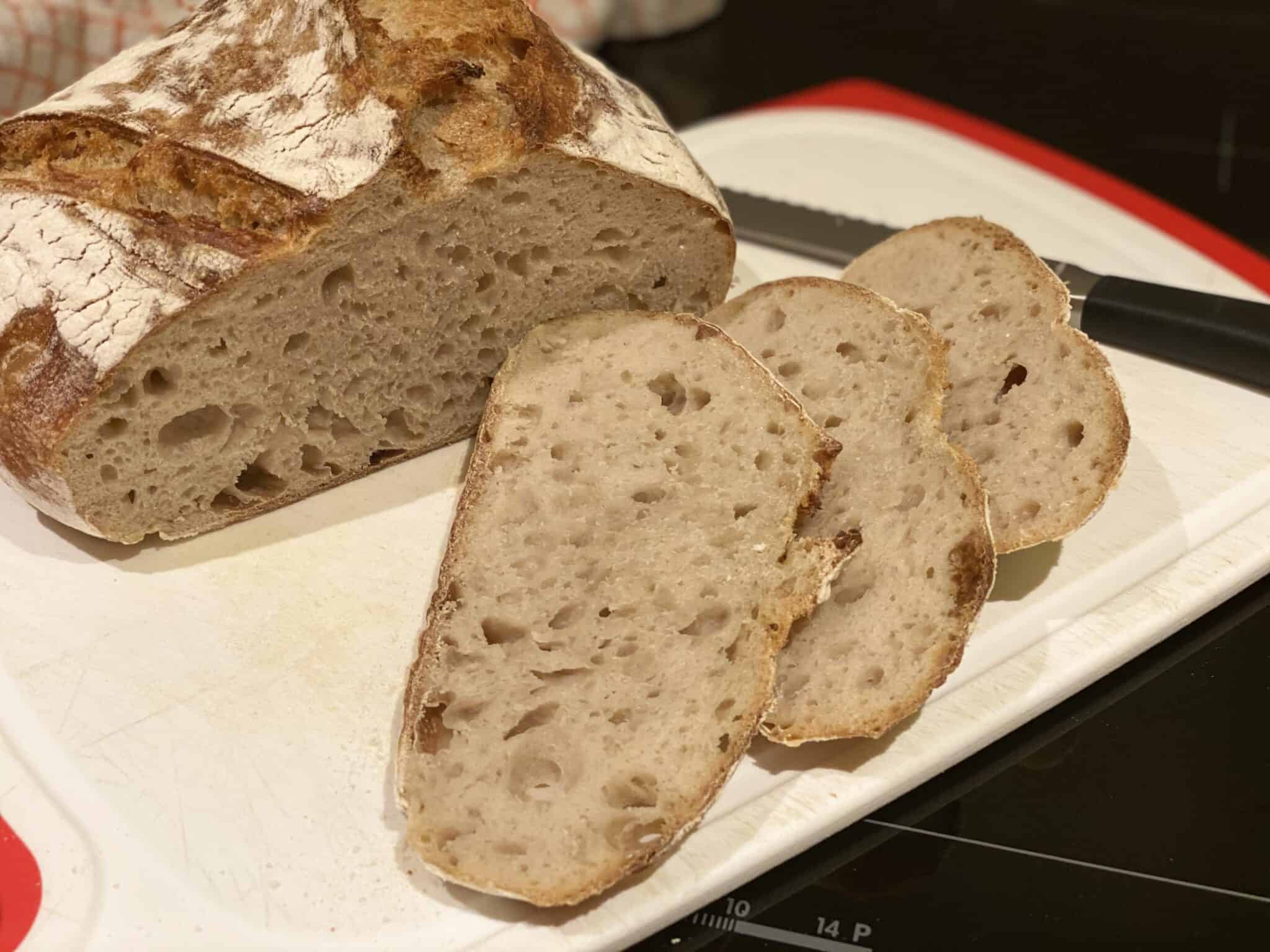 I used Strong White Bread flour to make the Master Recipe for the first time. I've adopted the Master Sourdough recipe with a mix of Whole grains for all my future Sourdough baking.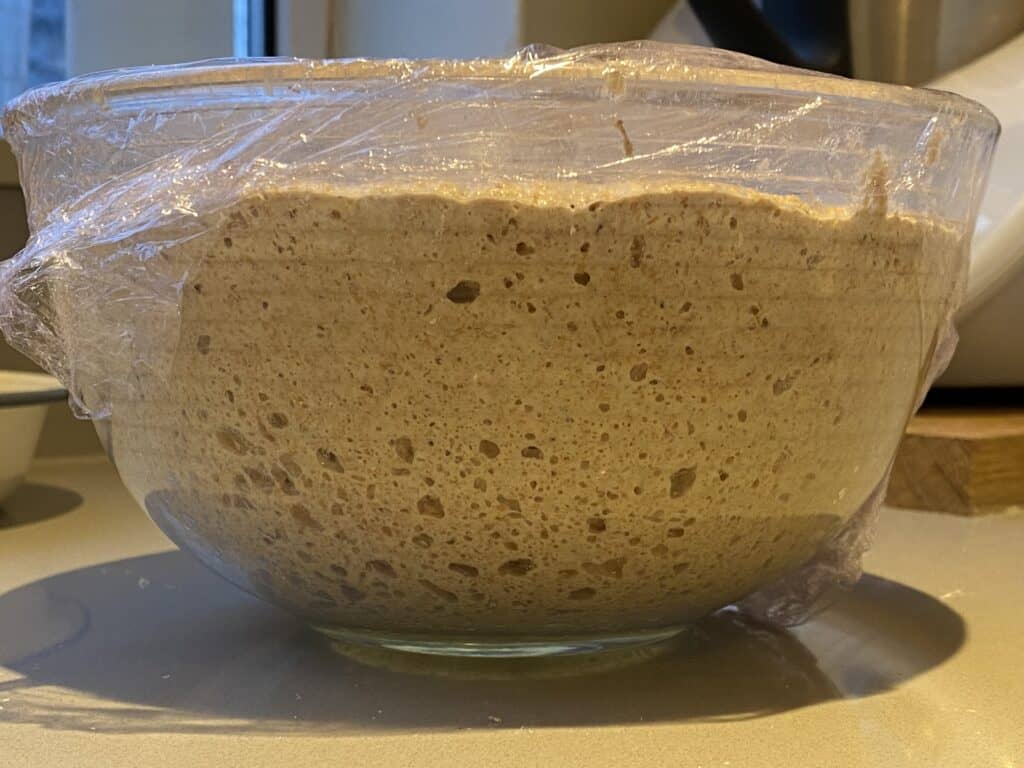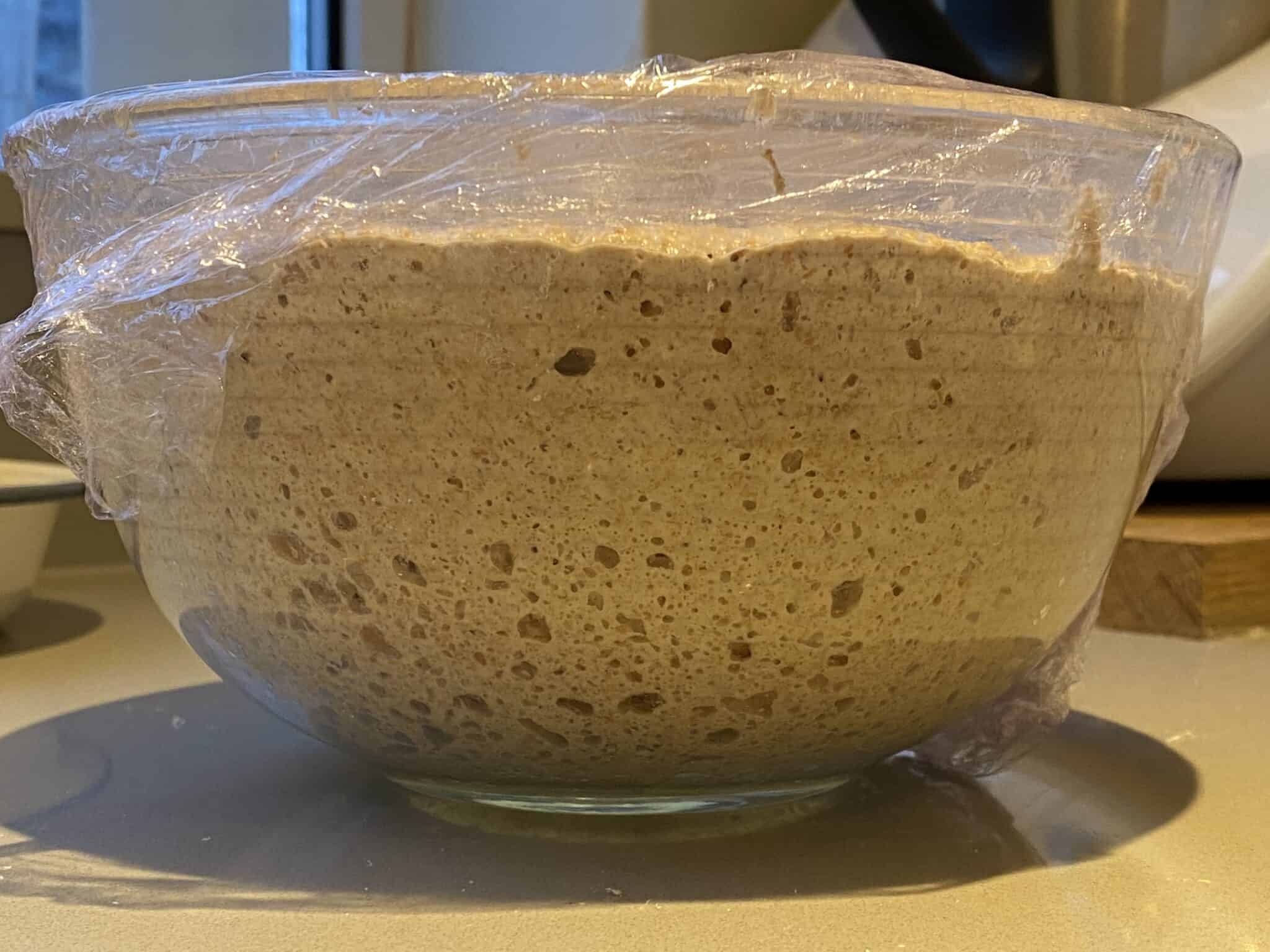 What I like about the Master recipes and other recipes in the book are the suggested starting, folding, and proofing times. This makes it much easier and more enjoyable when following the recipes.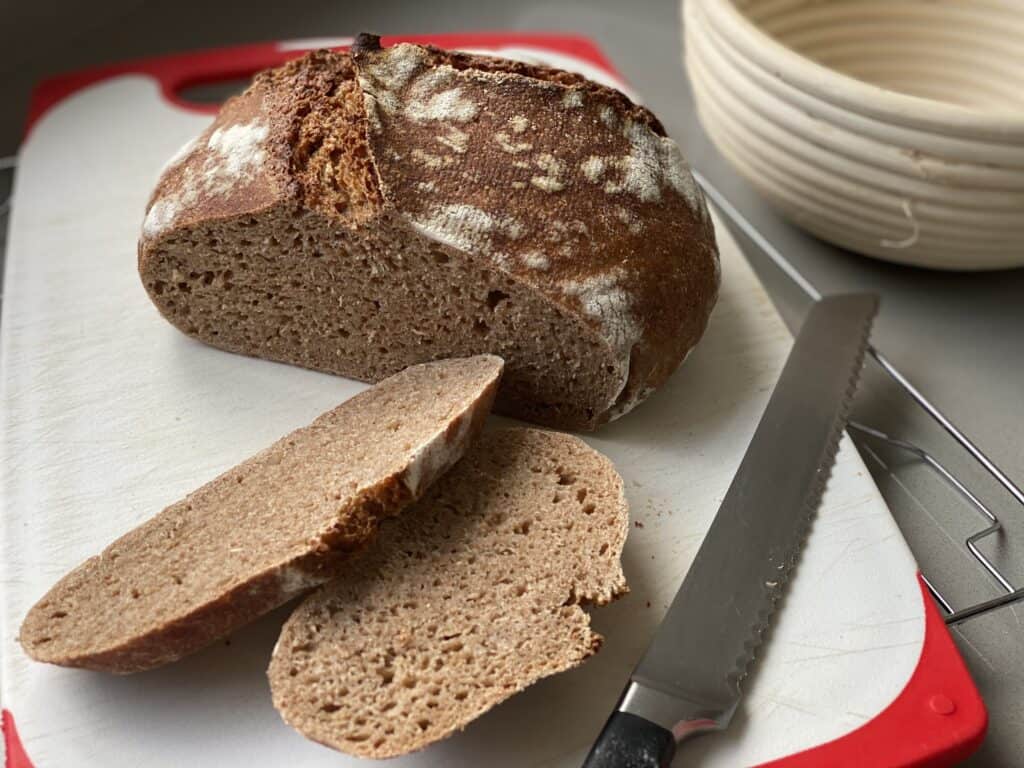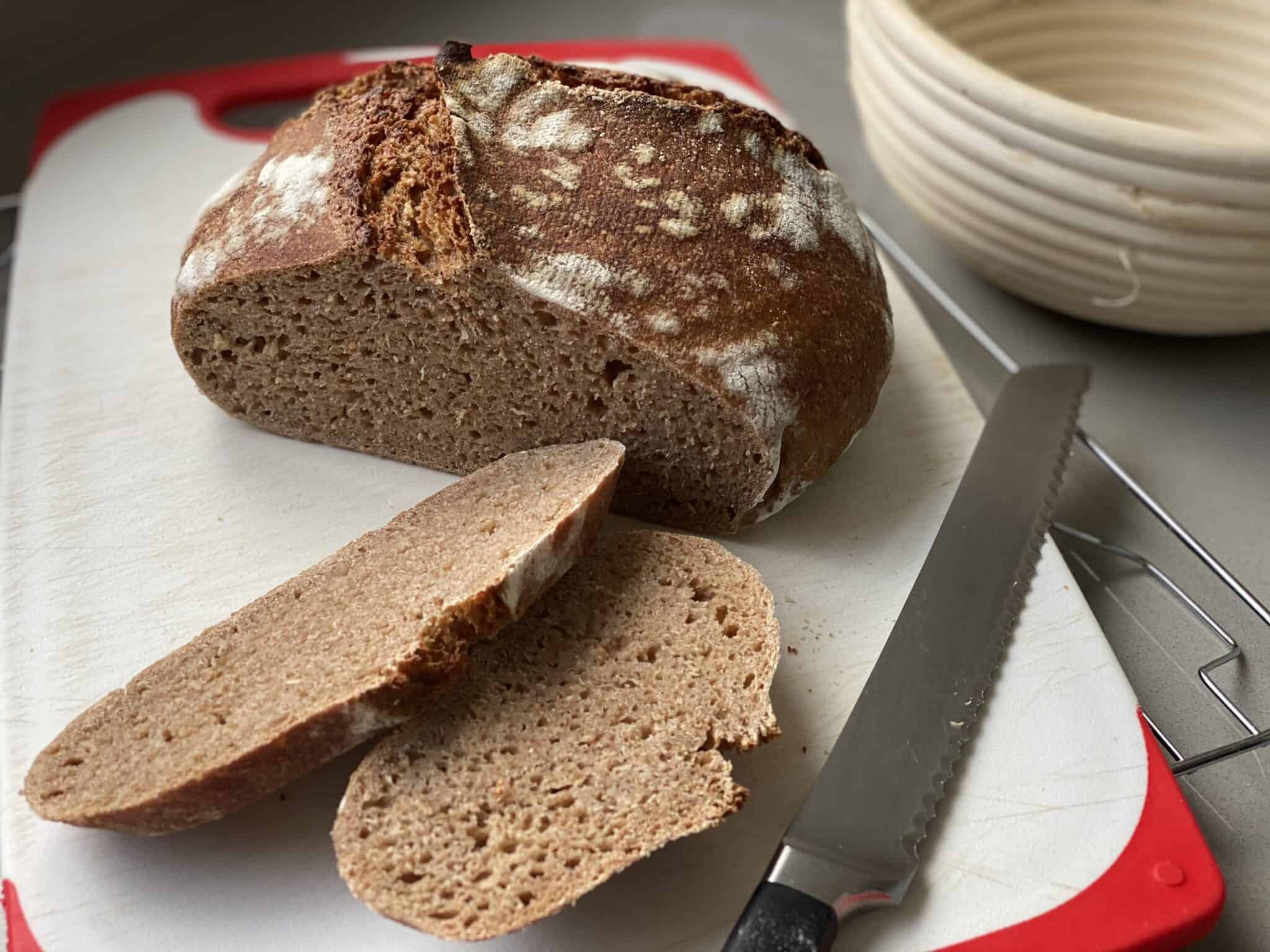 I made this Sourdough loaf with Whole Wheat and Einkorn Flour using Elaine's Master Recipe. The taste and texture was amazing and delicious.
Contents and other recipes
I have baked using Whole grains before and love their flavour. The taste is a world away from the flavour you get when baking with many other white processed flours.
Whole Grain flours are used extensively in the recipes. As an introduction, Elaine explains how each of the ancient grains reacts while the dough is being pulled and stretched.
Some produced a sticky dough and some hold their structure a lot less than others. This information helps you understand how and why some doughs react differently during the pull and fold process.
There's a whole list of recipes to make ranging from Sourdough Boules to Focaccia. Buttermilk sourdough Biscuits, speedy crackers and simple Sourdough Loaves.
Use other Liquids to make Sourdough.
Some recipes offer suggestions to 'Swap the Water' for Buttermilk, Potato Water, and even Beer and Spent Grains. I'm looking forward to trying some of those recipes later.
Sourdough bread is delicious on its own spread with good quality butter. Try making your own Homemade Butter, it's a lot easier than you think. Or drizzled with good Olive oil.
What to Eat with Sourdough Bread.
Use a slice of sourdough bread to mop up the juices of this Bulgur Wheat Salad with Cucumber and Carrot or serve as part of a picnic with another Bulgur Wheat Salad, this one has Tomatoes and Feta Cheese.
Buy the Book
Whole Grain Sourdough at Home is available on Elaine's website Foodbodsourdough.com