Discover amazing Christmas Cake Decorating Ideas for the home baker. Edible fondant toppers, starry and sparkling Christmas trees. Or Glace Fruits and Nuts.
This post was first published in December 2017 and has since been updated with new images and information in Oct 2019.
Around September/October time, many home bakers are thinking about what kind of Rich Fruit Christmas Cake to make for the festive season. My cake is made in October. I feed it regularly with Brandy and leave it for several weeks before eating it. Rarely, if ever, do I decorate it. Much preferring to eat a slice with a good chunk of crumbly cheese, such as Wensleydale.
For many bakers, a traditional Christmas Cake decoration may contain marzipan and a full festive scene of a snowy white xmas cake. Decorated with holly, intricately made figures, and Christmas cake toppers. While some opt for the simple, yet no less spectacular, decoration of glace fruits and nuts.
If you're planning on having a party during the festive season. You're going to need some snacks and other cakes. Have fun.
Christmas Cake Images
Here you'll find just a handful of Christmas cake decorating ideas. Ranging from simple nuts and fruits to starry Christmas Trees to cute little figures that the children can get involved with.  All these ideas and images were contributed by members of my Community Facebook group. Which you are very welcome to join
Hover your cursor over the image of each cake to discover its creator.
Barb Kiebel – Chocolate Cake with Peppermint Buttercream
Barb Kiebel – Red Wine Chocolate Cake with Sugared Cranberries
Not everyone likes fruit cakes. These two recipes from  Barb Kiebel's are a great example of how you can adapt any cake to suit the seasons.
Chocolate Cake with Peppermint Buttercream Frosting
Christmas is the perfect time for this Chocolate Cake with Peppermint Buttercream Frosting. It's seasonal and beautiful and a wonderful addition to holiday festivities.
Check out this recipe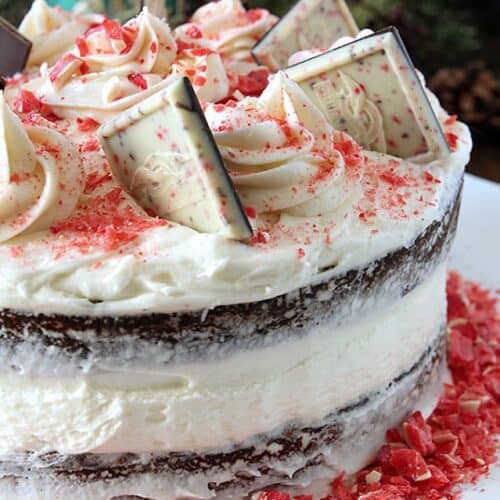 Red Wine Chocolate Cake with Sugared Cranberries
This Red Wine Chocolate Cake with Sugared Cranberries is a spectacular cake. The combination of chocolate cake with a mascarpone and buttercream frosting all topped with sugared cranberries is simply divine. Extend it to any season by garnishing the cake with fresh Strawberries or Raspberries.
Check out this recipe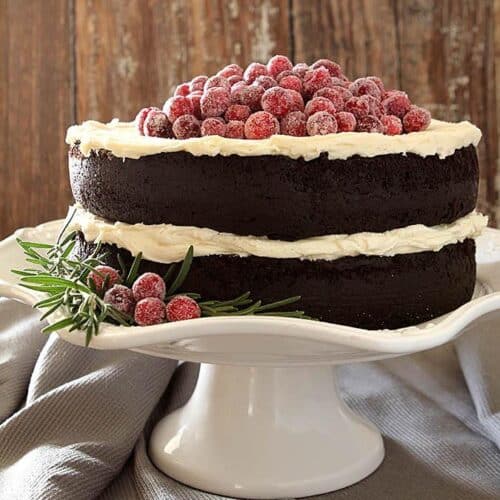 Holly and Berries
Circles of Holly and snow-covered trees are very popular. Using either a cookie cutter or piping bag & nozzle, you can create the perfect landscape or Holly Wreath.
John Holland
Kelly Ann Minnis
Sarah Rachel Gait
Aditi Rangan
Lady Hannah Maria Cripps
Elvi Bruce
Stars and sparkling Christmas Trees are some of the most popular and easy ways to decorate a cake.
Ian Parfitt
Jenny Beck
Carol Millman
Ruth Mumford
Elvi Bruce
Here's a selection of Robins, Christmas tree baubles, Santa clause, and gingerbread. Lots of fun when the kids get involved.
Jill Gouger
Kate Dodd
Kate Dodd
Lady Hannah Maria Cripps
Hazel Carmichael
Susan Gardner
Christmas Cake Toppers
More intricate fondant figures can be made. These are so cute.
Sandy Anne Miller
Orna Megannetty
Helen Fidler
Clare Chisholm
Deb Sharman
Nancy Craig
Candy canes, smooth fondant, ribbons, and snowflakes. The ideas are endless.
Nikki Pearson
Mehdi Lamrani
Mehdi Lamrani
Sam Mitchell
Not everyone likes marzipan and fondant. So why not use Nuts and Glace fruits.
Eileen Coleman
Helen Armishaw
Philip Friend
More decorating ideas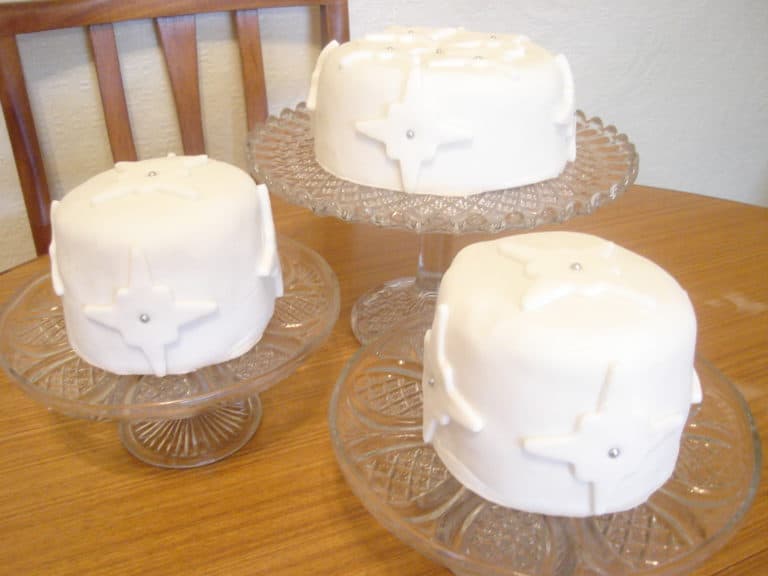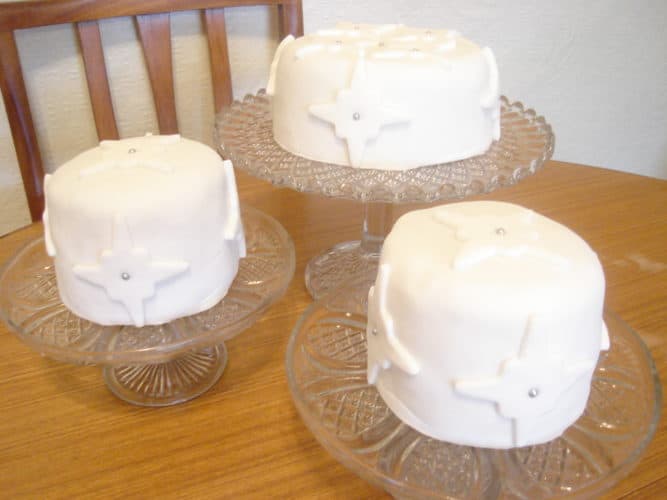 So what are you waiting for? Pour a glass of mulled wine and have the most wonderful time. 
Note:
These Christmas cake images are Copywrite of the homebakers who very kindly contributed to this post. These images cannot be used without their permission. Credit has been given to each contributor.