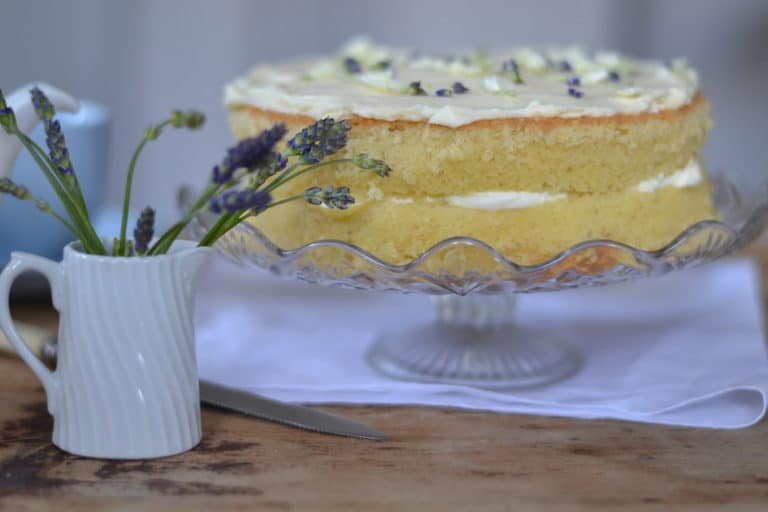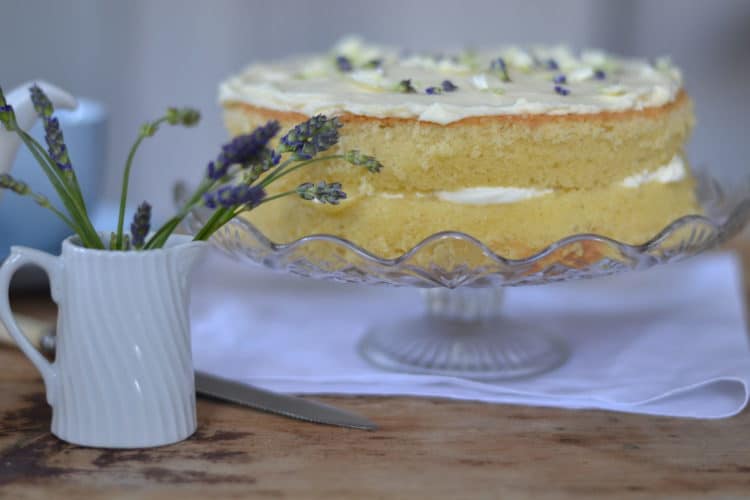 Baking with my grandmother - Lemon and Lavender Cake by Lisa Osman
My earliest baking memories include happy days kneeling on the kitchen stool so that I could be high enough to see the worktop.  Grannie used to let me cream the butter and sugar together but I can recall her chiding me when I would say that my arms hurt from all the stirring.
In the pantry there were an assortment of enamel storage containers and biscuit tins but my favourite was the recycled jam jars that contained caster sugar.  This had been mixed with dried lavender petals which was gently adding a distinctive floral note to the sweet treat.  Ready to be sprinkled on to our porridge, a fruit compote, or for a special treat to make a cake.
You will need:
2 x 20cm (8") sandwich tins - brush with melted butter, line with baking parchment.  Repeat with more melted butter and then coat with a light dusting of flour. Tap to remove any access flour.
For the cake
4 medium free range eggs
100g (4oz) lavender sugar - sieve to remove petals
75g (3oz) unsalted butter - melted and cooled but not solid
50g (2oz) ground almonds
50g (2oz) plain flour
To decorate
Lemon Curd - see recipe below
300g (12oz) mascarpone
Edible flowers - we used lavender petals and dianthus
Method
Pre heat conventional oven to 190 C Gas mark 5.  Side shelf to middle of oven.
2-oven AGA - slide grid shelf to floor of roasting oven.  Ensure plain shelf is cold. Also add a pinch of baking powder to plain flour.
4-oven AGA - slide grid shelf to floor of baking oven
Sift flour and almonds together. Set aside until required.
Add eggs and sifted Lavender sugar to a large bowl and using an electric whisk, mix together until light, fluffy and at least double the original volume.
Reduce electric whisk to lowest setting and slowly trickle melted, cooled butter into mixture.
Add flour and almonds in two batches by carefully folding into mixture using a metal spoon or spatula. Do not over work but ensure dry ingredients are combined.
Spread mixture evenly between prepared sandwich tins and place in middle of conventional oven.  If baking in AGA roasting oven place a cold, plain shelf immediately above.
Cook for approximately 8-12 minutes or until cake springs back to the touch.
Remove from oven and transfer to a cooling rack.
Meanwhile make lemon curd and allow to cool.
When the cake and curd are completely cold, Mix two tablespoons of lemon curd with the mascarpone and beat well.
Place one cake on serving plate and spread half the mascarpone mixture evenly on top.  Followed by a layer of lemon curd.
Add second cake and gently spread remaining mascarpone on the top of this. Decorate with petals.
To make the Lemon Curd
Melt 75g (3oz) unsalted butter in a heavy bottom pan, meanwhile beat together 3 medium free range eggs.  Add 75 g (3oz) plain caster sugar and the juice of three lemons to the melted butter, stir together then add eggs.  Stir continuously over a low heat until the mixture forms a custard.  Store in a sterilized jar in fridge.


Cooks tips and recipe ideas
The cake keeps well in the fridge so get ahead and bake the day before.  Store in a sealed container.  Decorate with petals just before serving.
If you do not have lavender sugar, use plain caster sugar and decorate with your favourite berries.
Store any leftover lemon curd in fridge and use as a topping on your breakfast toast.
Lisa Osman is a slow food chef and Great Taste judge living in the historic village of Wimborne St Giles located in an Area of Outstanding Natural Beauty.  Her Dorset farmhouse is also home to an AGA approved cookery school All Hallows Farmhouse and she travels extensively to teach AGA owners how to make the most of their cast-iron cookers.